2017 Live-Action Adaptations from Shoujo and Josei Manga
I thought it would be helpful to have a cheat sheet of sorts. There have been a lot of announcements of manga being made into movies or drama series recently. Here's a list of everything we can find that has recently premiered or will premiere this year.
Dansui! – TV Series & Stage play
Manga by Tatsuya Kiuchi. English Translation: Male Water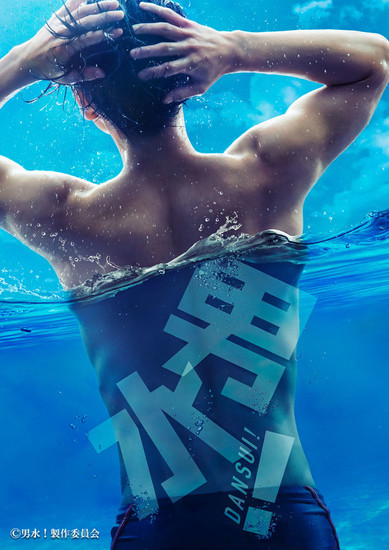 The story centers on a certain school swim team that is on the verge of being disbanded. The team only has three members: Shūhei, the team captain who looks after the others; Daiki, who is silent, taciturn, and has a great body; and Harumi, a handsome, effeminate man. The three second-year students are looking for more members to last the school year, and the members that end up joining include a complete beginner and someone who can barely swim.
The cast incudes Ryou Matsuda as Shuhei Sakaki and Shuuto Miyazaki as Daiki Shinoduka.
The television series will premier in January 2017.  The stage play will follow with the same cast in May of 2107.
One-Week Friends – Movie
Manga by Matcha Hazuki. English Translation: One Week Friends
The story of the manga revolves around Yūki, a boy who wants to become friends with his classmate and desk neighbor Kaori. However, she gently declines his friendship, saying, "But, my… memories of my friends disappear in a week…" Even so, Yūki wants to become her friend, and so the two become friends over and over again as the weeks pass.
Cast includes Haruna Kawaguchi and Kento Yamazaki for the film's main roles. Kawaguchi plays Kaori Fujimiya (seen left in photo), while Yamazaki plays Yūki Hase.
The movie is slated to premier in Japan in February 2017.
Kyou no Kira-kun – Movie
Manga by Rin Mikimoto. English Translation: Today's Kira-kun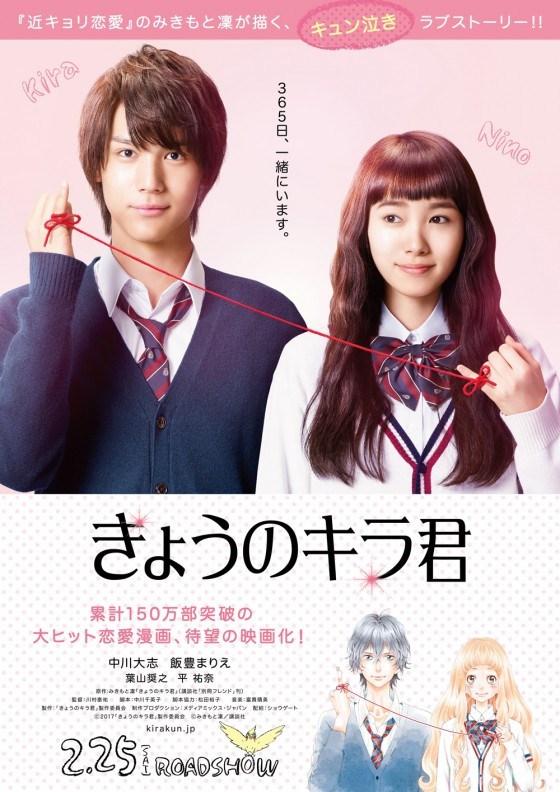 The story follows an eccentric girl named Nino who keeps a parrot on her shoulder and a carouser named Kira who passes his days with nonsense. Nino and Kira's houses are next to each other but they have never spoken, until one day Nino finds out Kira's secret and their fates intertwine.
Cast includes Marie Iitoyo as Nino (right) and Taishi Nakagawa (left) as Kira for the film's main roles.
The movie is slated to premier in Japan on February 25, 2017.
Peach Girl – Movie
Manga by Miae Ueda. English Translation: Peach Girl
The story is about an average high school girl who everyone thinks is a beach bunny/slut because of her tanned skin. The actual reason she is so tanned is because she was on the swim team and tans very easily. She likes a boy who she heard only likes non-tanned girls.
Mizuki Yamamoto will star as Momo and idol group Hey!Say!JUMP's Kei Inoo will play Kairi in his first film role. Koji Shintoku will direct the film.
The movie is slated to premier in Japan in 2017.
Hirunaka no Ryuusei – Movie
Manga by Mika Yamamori. English Translation: Daytime Shooting Star

The story follows Suzume Yosano, a high school girl who moves to Tokyo from the countryside. A mysterious man helps her when she gets lost on her first day in Tokyo. That man turns out to be her new homeroom teacher named Satsuki Shishio!?
Takehiko Shinjo will direct the movie, with scripts by Naoko Adachi. The cast and exact release date of the movie will be revealed on future issues of Margaret.
The movie is slated to premiere in March 2017.
P to JK – Movie
Manga by Maki Miyoshi. English Translation: P & JK – Police and High School Girl

Kako Motoya (Tao Tsuchiya) is in the first year of high school. She has yet to have a boyfriend yet. One day, she pretends she's a university student and takes part in a group blind date. There, she meets 23-years-old Kota Sagano (Kazuya Kamenashi). Kako and Kota get along well and become attracted to each other. Later, Kota learns that Kako is a high school student and his attitude towards Kako changes. In fact, Kota is police officer. Even though he likes her, he knows he can't date her. Then, Kako is injured while protecting Kota. Kota decides to accept Kako for who she is. He asks Kako to marry him, because that's the only way he can be with her as a police officer.
The movie stars Kazyua Kamenashi (left) as Kota and Tao Tsuchiya (right) as Kako. Ryuuichi Hiroki (live-action Strobe Edge, live-action Wolf Girl & Black Prince) will direct the film, and Nami Kikkawa will write the script.
The movie is slated to premier March 25, 2017.
Ani ni Aisaresugite Komattemas – Movie
Manga by Rina Yagami. English Translation: Brother's Troublesome Love

Setoka Tachibana (Tao Tsuchiya) is a female high school student. She has confessed her feelings to other boys 12 times, but has been rebuffed each time. Her older brother Haruka Tachibana (Ryota Katayose) cares for his younger sister deeply, but he holds a secret from Setoka. The secret is that they are not blood related. One day, Setoka's first love Takane Serikawa (Yudai Chiba) appears after many years and approaches her.
The movie is slated to premier in Japan in Summer 2017.
Kimi wa Petto – Drama Series
Manga by Yayoi Ogawa. English Translation: You're My Pet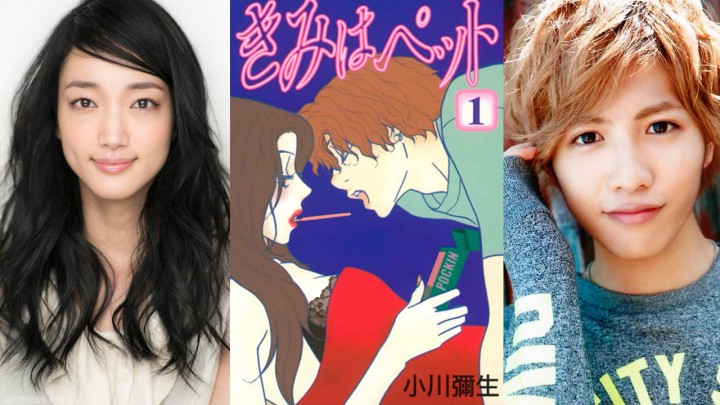 The manga and television series revolve around Sumire Iwaya, a tall and beautiful editor for a well-known newspaper who was just demoted by her boss and dumped by her fiancé for his pregnant mistress. Depressed, she encounters a homeless boy on the street who resembles her childhood pet Momo, and facetiously offers to take him home as a pet. However, the boy surprises Sumire by agreeing to the proposition.
The updated drama will star Noriko Iriyama (left) as Sumire and and Jun Shison (right) as Momo.
The drama will have 16 episodes and be on late-night television. No news on the premiere date yet.
Fukumenkei Noise – Movie
Manga by Ryoko Fukuyama. English Translation: Unmasked Noise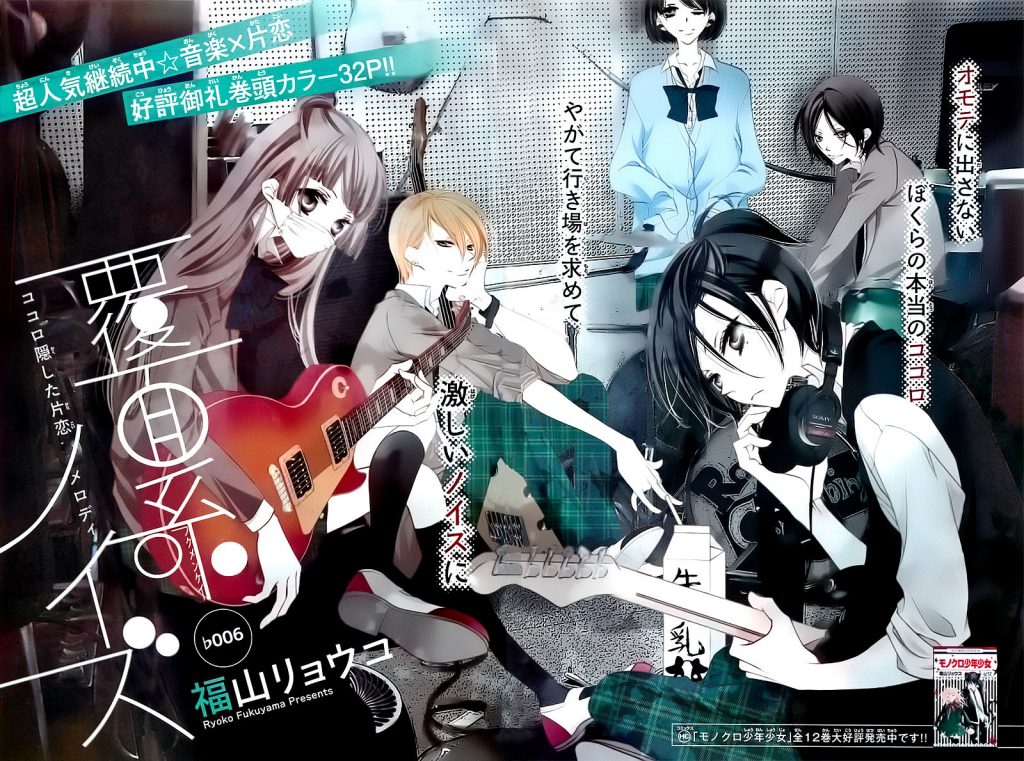 A girl who loves to sing, Nino Arisugawa experiences her first heart wrenching goodbye when her beloved childhood friend, Momo, moves away. And after Nino befriends Yuzu, a music composer, she experiences another sad parting! With music as their common ground and only outlet, how will unrequited love play out? Since both boys promised Nino that they will find her one day through her singing, she holds on to that hope and continues to reach out with her voice. Now in high school, Nino serendipitously reunites with Yuzu, but she yearns to see Momo again…
No cast and no premiere date for this movie yet.
Author/Editor
Super mom and teacher until the kids go to bed, then romance manga addict and writer until the caffeine wears out! Specializes in the shoujo and josei genre of manga and anime.
Latest posts by Laura (see all)