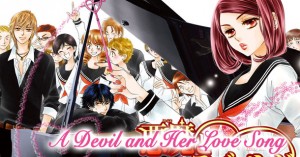 A Devil and Her Love Song, translated from Akuma to Love Song, is a completed shoujo manga that ran from 2007-2011 in Shuiesha's Margaret publication. It has been licensed for North America by Viz's Shoujo Beat imprint and will have a 13 volume run. A Devil and Her Love Song stands out with a strong heroine that through faith and perseverance wins the hearts of others.
The Gist: Maria Kawai was expelled from Katrina Catholic School and is attempting to start over at Totsuka High School. Her blunt personality is intimidating to others, thus she has a difficult time making friends. Her new classmates are jealous of her pretty face and bully her. She catches the attention of two boys in her class, Shin Meguro and Yusuke Kanda, who hear her singing "Amazing Grace"  in a beautiful voice. Yusuke tries to be friendly to her, but it doesn't fool Maria who sets him straight by making him face how he really feels about her. Shin notices that Maria is attempting to deal with the bullying at school without complaints and becomes attracted to Maria. With the help of these two boys, Maria must learn to forge new relationships and overcome trials she may face at school.
The Characters/Romance: Maria is a tsundere character that seems dislikable to others, when actually there are characters in the story like Shin and Yusuke that appreciate Maria's personality and find out that she is very genuine on the inside. Her ability to withstand the bullying at school is amazing. She exemplifies some of the Christian teachings that she has learned at the Catholic School. I thought her attendance at a karaoke party that was suppose to make fun of her, was actually an attempt to get along with the very girls who have been mean to her. She even states that having faith may save her.
Her blunt personality is a drastic change from any other shoujo heroine I've read, as well as her beauty. Most girls in a slice of life shoujo manga tend to be average looking so that readers can slip into the girl's role, but not Maria. She's rather gorgeous. Even after three volumes we still don't know Maria's backstory, so I'd really like to find out exactly what happened at the Catholic School that makes Maria flinch when she is touched by others.
Shin Meguro and Yusuke Kanda are almost polar opposites. A typical shoujo recipe for a love triangle. Shin is the dark haired, anti-social returnee who tends to be an observer. Yusuke is a bleached-blonde boisterous personality that likes attention and wants everyone to like him. Have your pick of which bishie you prefer. I guarantee these boys are typical girl fodder. Maria's personality basically overwhelms these two love interests, and I'm not sure if these guys will evolve much through the rest of the story.
The Art: A Devil and Her Love Song relies heavily on character and expression to convey the storyline. The character designs are highly attractive, and Tomori does a good job with anatomy and proportions. The overall look of the paneling is rather crammed. There are so many scenes and dialogue fit onto a spread that at times it's too much. There are layouts that flow smoothly, but they are not as common as the rest. The toning is used for mood and to fill in some basic line art. I really like Tomori's colored pieces the best.
The Audience: This series is a high school slice of life story with a teenage love triangle. It should be thoroughly enjoyed by the teen set. The romance rating would be cuddly, since all we've seen between the protagonists is a hug.
The Media: A Devil and Her Love Song is available from Viz's Shojo Beat imprint.
Heart of Manga Rating: ♥♥♥♥
Maria Kawai is a unique heroine that changes others around her with her honest personality. A Devil and Her Love Song would be a great read for teens.