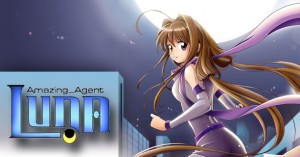 Amazing Agent Luna is an OEL manga written by DeFilippis and Weir and illustrated by Shiei. First published in 2008 by Seven Seas manga this story of a secret agent ninja girl will appeal to an audience who like alternative high school shoujo.
The Gist: Luna is the perfect secret agent, grown in a lab from the finest genetic material. She has been trained since birth to become the U.S. Government's secret espionage weapon. When her newest assignment lands the fifteen year old spy at Nobel High School, Luna's abilities will be sorely tested. While trying to uncover an evil plot by arch nemesis Count Von Brucken, Luna's social inexperience puts her at a great disadvantage. Luna's been trained for her missions, but nothing has prepared her for hormonal high school. Navigating the emotional experiences of friendships, crushes, and rivals is more challenging than fighting in any hand to hand combat. Then she discovers her crush Jonah , is actually the son of Von Brucken, himself! Can Luna overcome her emotions to make this mission a success?
The Characters/Romance: The strongest story element is main character Luna. Although equipped with the skills to be an agent, Luna has the same emotional reactions to high school that any girl would experience. This makes her character highly accessible to a teen audience. The relationships between the characters is what really drives this plot forward. Side characters of Agent Jennifer and Doctor Collins are a great addition to the cast and provide a necessary parental element for Luna's character. Their side story gives great incite to their characters and Luna's.
Although the secret agent and nemesis are fundamental to the story line, this was the weakest element of the plot. Count Von Brucken already an unusual character, eventually transforms from antagonist to comedic relief. This takes away from the more dramatic mood of the story and instead creates a sillier plot element.
The romance occurs between six main characters, so there is plenty of love to go around. Main character Luna quickly falls for Jonah Von Brucken. Jonah returns her affection as well, but things don't stay hunky dory for long. Skater Oliver is one of Luna's first friends. He has the hots for Luna, but Luna is focused on Jonah. Francesca is one of Luna's few girl friends. She crushes on Oliver eventually. So the teen crushes are all over the board. A nice alternative is Agent Jennifer and Doctor Collins. They are the two adults playing parental roles. Living in the same space, they find themselves in romantic situations as their familiarity with one another grows. It is a nice development to alter the otherwise static characters.
The Art: Shiei illustrates Luna's adventures fairly well. Her distinct style is consistent throughout the series. Great action sequences as well as romantic scenes prove her talent as a manga artist. The character designs are the strong point in this series. From facial expressions to costuming and gestures, Shiei's personalities come to life. Line art is clean, and the colored pieces are just as fantastic. If there are any weak points, I would suggest the artist try for some more dynamic paneling sequences, as some of the pages are still very blocky.
The Audience: An enjoyable read for tweens and teens. Chaste kissing makes this story a cuddly romance.
Heart of Manga Rating: ♥♥♥
An action-packed romance with memorable characters, Amazing Agent Luna is a fun read.