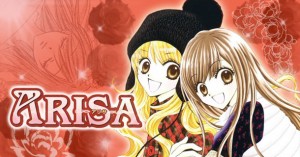 Arisa by Natsumi Ando is currently an ongoing shoujo series published in Nakayoshi magazine in Japan. It was licensed for North America by Del Rey in 2009. After the first volume release and dissolve of Del Rey, the publishing was then taken over in 2010 by Kodansha Comics. Arisa is a mystery / suspense story that is a darker look at the teen clique and the mental issues that social outcasts suffer. It's a way different take from the syrupy-sweet Kitchen Princess, which was the last series we received drawn by Natsumi Ando.
The Gist: Twins Tsubasa and Arisa have been separated for four years by their parents' divorce. Maintaining communications by letter, Tsubasa has no expectation of Arisa's actions when the twins plan a sudden reunion. Ostracized by her classmates, Arisa jumps out her bedroom window as Tsubasa watches her twin plummet below. With Arisa in a coma, Tsubasa decides to role play as Arisa at her school to find out what events led to her sister's drastic actions. Tsubasa uncovers a game known as "King Time" that grants the wish of any student in Arisa's class – no matter how dangerous or lethal the wish may be. Despite putting her own life at risk, Tsubasa begins to unravel the mystery of the class "King" and Arisa's role in the dangerous game that continues to wreak havoc in the lives of class 2B.
The Characters/Romance: Tsubasa is portrayed as the strong, brave heroine in this series as opposed to her weak-willed sister. I actually don't care for Arisa because she chose to take the sissy way out and left Tsubasa to deal with the consequences. Tsubasa's determination to uncover what led to her sister's drastic actions is admirable. She doesn't give in no matter how scary or dangerous the situation gets. That Tsubasa is trying to solve this situation without any adult help or intervention is foolish. Tsubasa should have reported the class activities to someone in authority as soon as she realized how dangerous they were. However, Ando realistically portrays the teen ideal of trying to solve everything themselves, as if they are immune to any real threats that are there. It's a very common plot element in youth literature.
There are several boys in Arisa's class that become guilty suspects at some point in the story. The first is Akira Manabe. Akira was a high school drop out, until Arisa convinced him to come back to school. He is the first to realize that Tsubasa is not Arisa, and Tsubasa must determine Akira's motivations behind wanting to keep her secret.  Midora Yamashita is the boyfriend of Arisa that Tsubasa encounters when she arrives at school.He doesn't realize that Tsubasa is Arisa until later on in the series. He treats her kindly and even takes her on a date, but he seems to have a creepy alternate personality we see glimpses of as more of the plot is revealed. Kudou Rei is the third main suspect as he is a transfer student that also possesses one of the key passwords for "King Time" wishes. Ando shows him to be a sinister personality that has a purpose for transferring to Arisa's school yet to be revealed.
The Art: Of all the pieces of this series the art is the biggest misfit. A dark, sinister plot about teen homicide and suicide does not look right with Ando's cutesy drawing style. The story is fairly solid, but the imagery does not fit the tone or mood of the story. Even when Ando draws the characters as disturbed or creepy, they still look too distorted to really be considered scary. It's not a big enough contrast to have the impact I believe she intended. The character designs are fairly typical for Ando, and there are included elements of "sparkle" toning and tone patterns that scream "shoujo manga". That's okay, since that is the intended audience. Again though, it contrasts the sinister theme of the story.
The Audience: I believe this series would be a big hit with tweens and teens for the suspenseful plot and Ando's drawing style. However, it would be important as a parent to have a discussion about bullying and suicide. These events in reality would definitely need adult intervention, so also some talk about fantasy and reality would be needed. The romance factor would be cuddly, since Tsubasa really hasn't gotten involved with any guys.
The Media: Arisa is available in North America up to volume 7. It has been released in 9 tankobans in Japan and is still ongoing in Nakayoshi, so expect more volumes to keep coming.
Heart of Manga Rating: ♥♥♥
Wish I could have highly recommended this series, but the art was an issue for me. If you can make the images jive for you, then it's a great shoujo suspense story that you will want to devour in one sitting, thanks to the page-turning plot. Check it out!