Blue Spring Ride Episode 8 – "Caring for Things Brings A Lot of Trouble"
September 3, 2014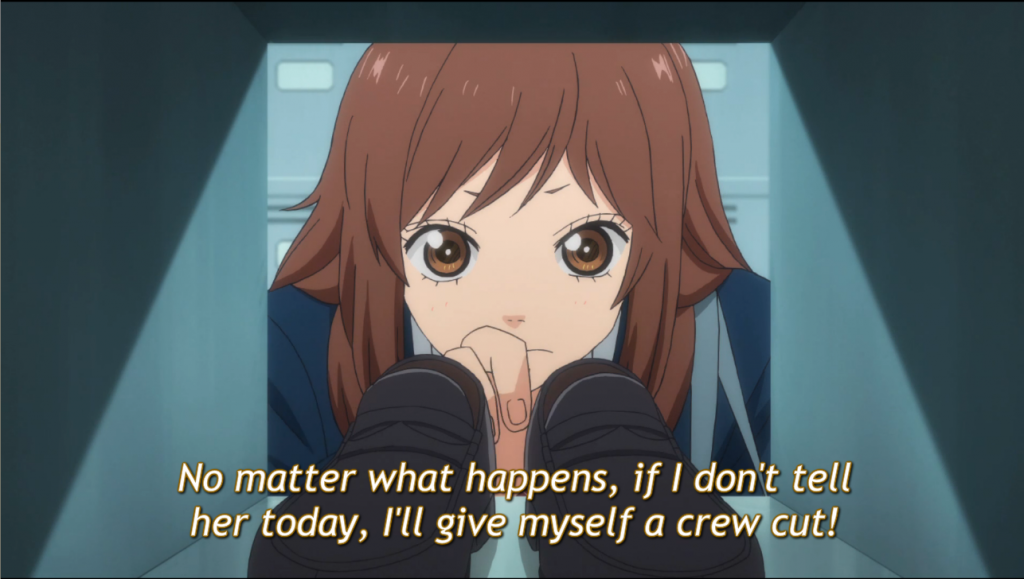 Well, yes, we hope you tell her today, because we're all sick of you dwelling on it and want to move on. Unfortunately, it takes Futaba the first half of the episode to tell Yuuri her feelings. She keeps dragging it out.
Finally we do get her confession in front of Yuuri and Murao. Yuuri's reaction is better than Futaba expected and the girls make a solemn promise about no hard feelings. I think it's evident that Yuuri can say that because she doesn't really love Kou, she's just crushing on him. Futaba's emotions go a little farther back. It would be harder for Futaba to just let go.
There are two more important events in this scene however. First we get Murao's confession and her opinion on Kou. So far she's been withdrawn from the girls. In this scene she finally shares her feelings and admits that it's her first time going anywhere outside of school with anyone. That's an important character development and brings the girls closer together.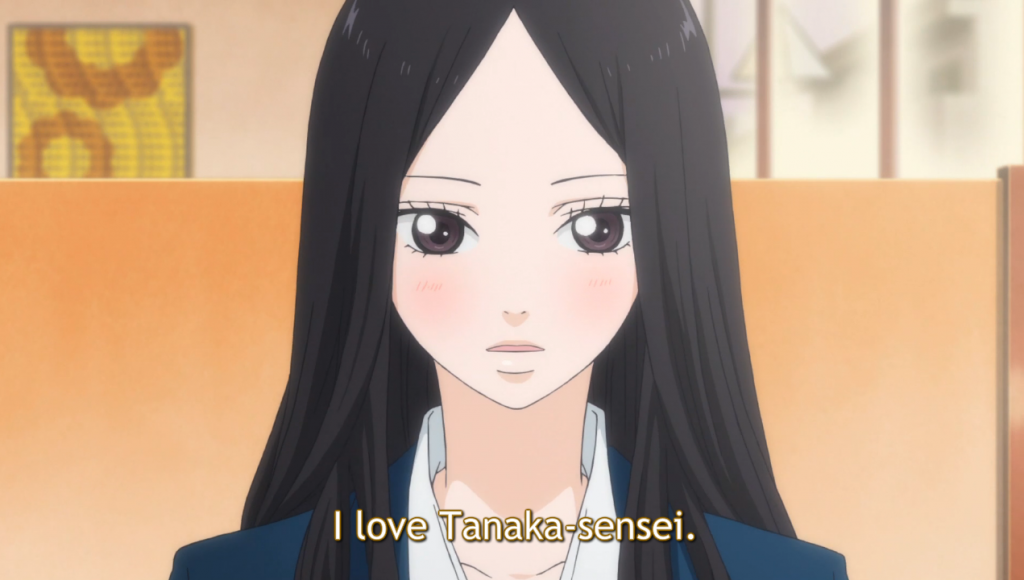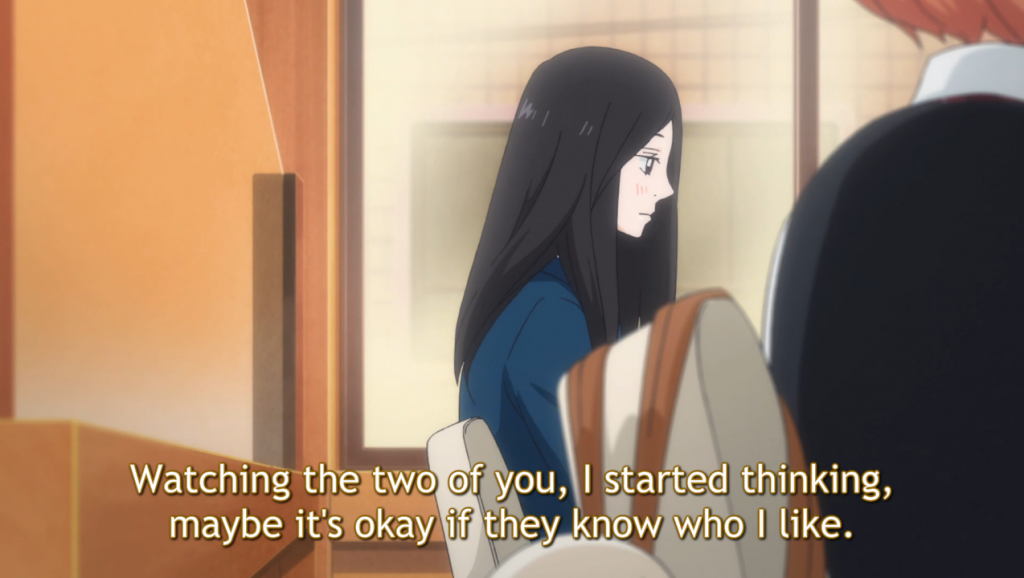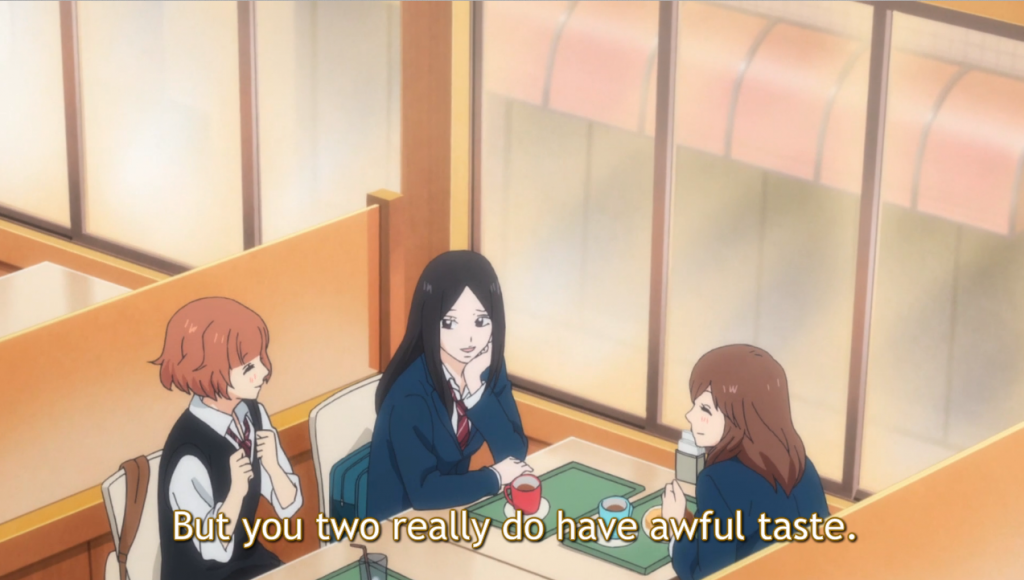 I found her opinion on Kou ironic. Because, really – Tanaka sensei and Kou are brothers. Saying they have bad taste is kind of funny being that that the boys look alike and are from the same family. I had to laugh when she makes Yuuri and Futaba realize that it's ultimately Kou's decision who gets him, and their reaction to the possibility that he might choose neither of them is hilarious.
The other important plot element here is when Kominato shows up and observes Murao in the station with Futaba and Yuuri. He recalls how she avoided her classmates in the past. Now he's happy that she's going out with Futaba and Yuuri.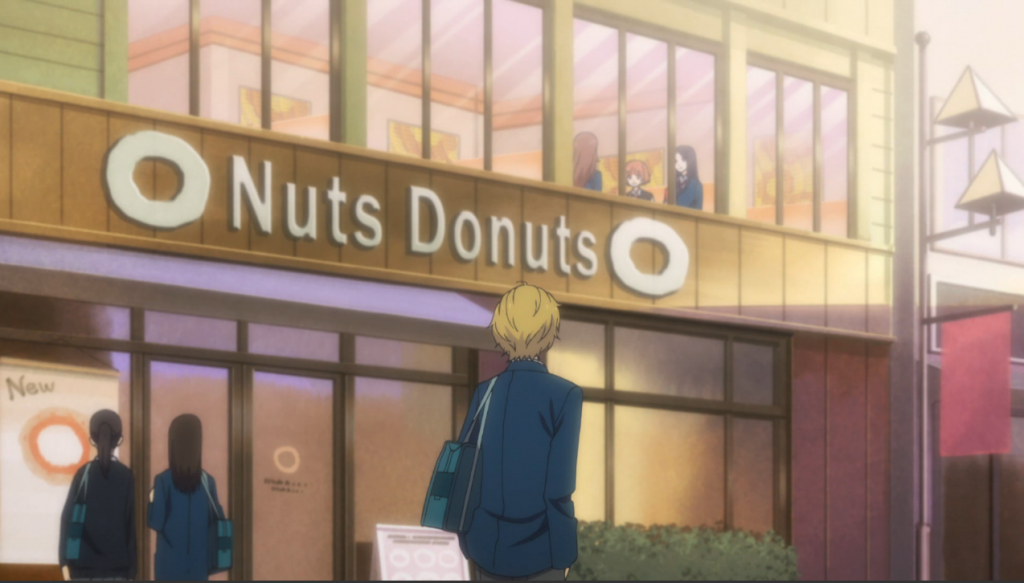 When Futaba leaves the station she runs into Kou outside, who is shaking paws with the white-socked kitty. (Everyone gets to fan girl a little here because Kou's loving on a kitty!)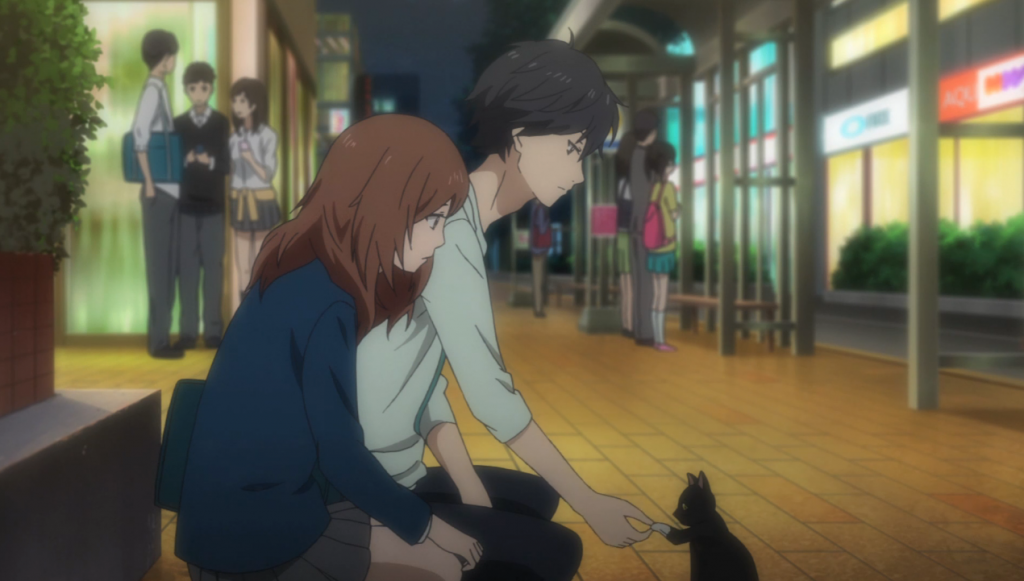 Then he has to ruin the moment with his attitude. When Futaba asks why he won't take care of the cat, he answers her with a very revealing quip.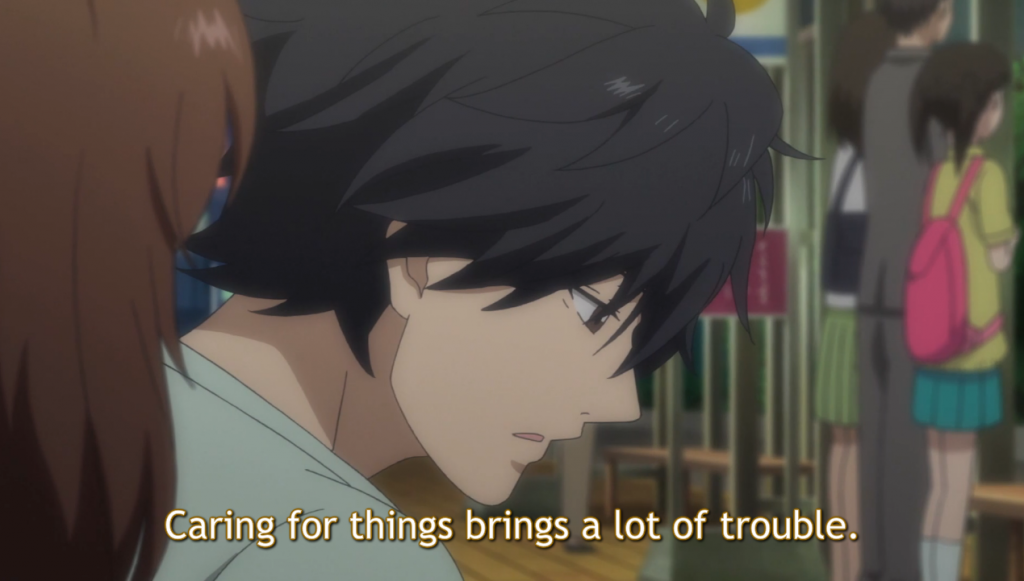 What happened to Kou that he's saying something like that anyway? Dang it was painful if he won't even care for a cat. It obviously worries Futaba. So much so that she decides to stalk his ass. Which I saw that a lot of people thought was creepy. Hmm…being that I've done something similar when in love, you kind of do that when you're really worried about someone. It's good that she's concerned but not smart of her as we see relatively quickly. Did anyone else notice the creepy guys watching her down the alley? Then there's the guys that start hitting on her as soon as she sees Kou. It's no wonder he gets irritated.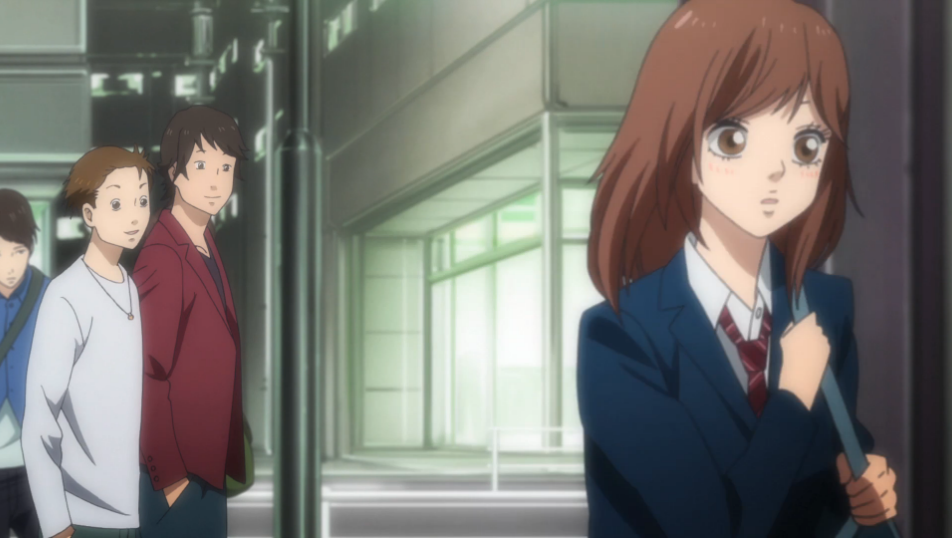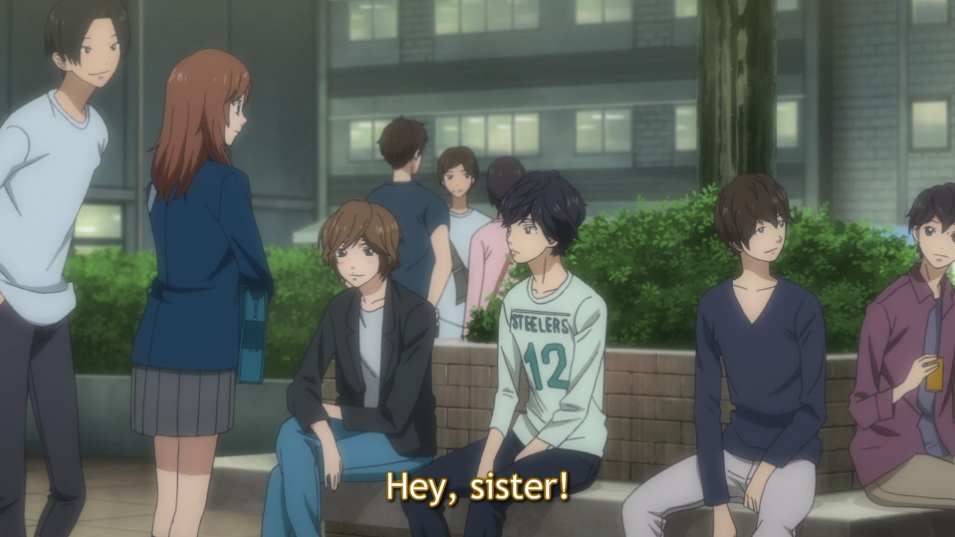 Futaba's pissed that he's there in the first place. But Kou realizes quickly that he's got to get Futaba out of there when the other guy next to him suggests she's got it where it counts – chichis. Well, that does it for Kou. He's angry now.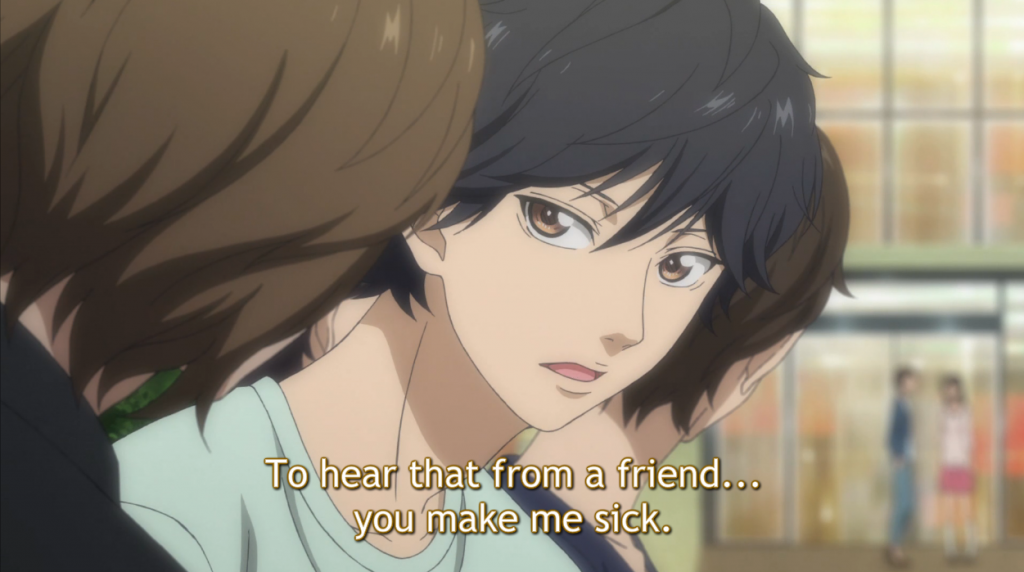 While Kou gets her out of there he still can't get rid of her even though he tries to make her go back to the station. He's worried about her safety, Futaba's worried about his emotional state. They're worried about each other, but still we get this high tension dancing around it all. That's what I love about this series.
Futaba follows him to the riverbank where he buys her a soda and they sit in the grass. When Futaba confronts him about his actions, he decides to take some of his irritation out on Futaba.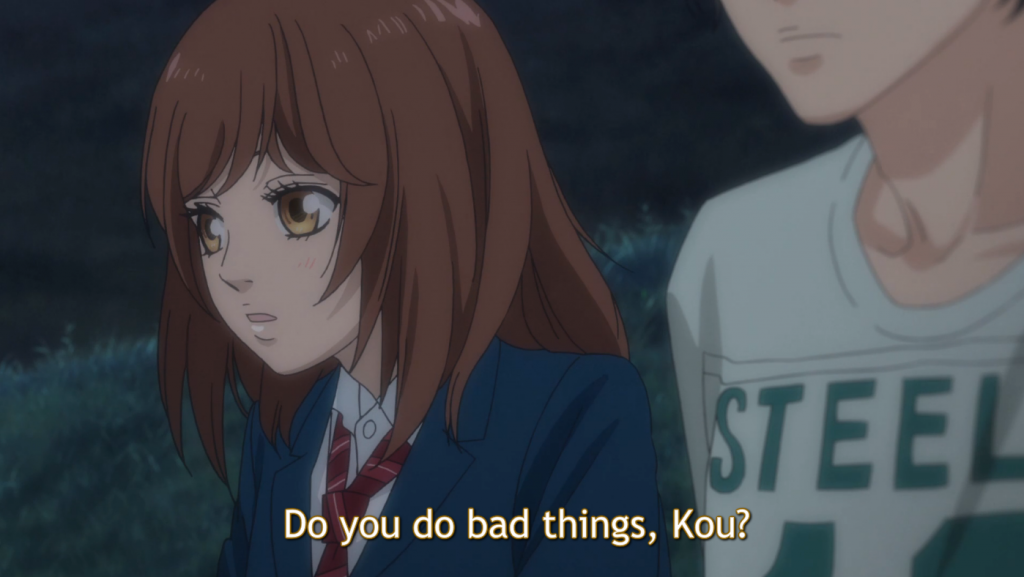 Oh Futaba, Futaba, you're about to find out, girl! But really she's worried about him drinking or smoking and he admits that he just goes there to talk. She suggests that he could talk to her…or to their other friends. Then she gives him crap about having "friends in name" only.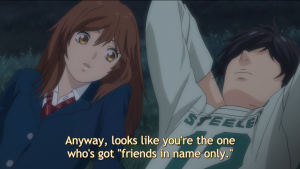 That does it. He's ticked now.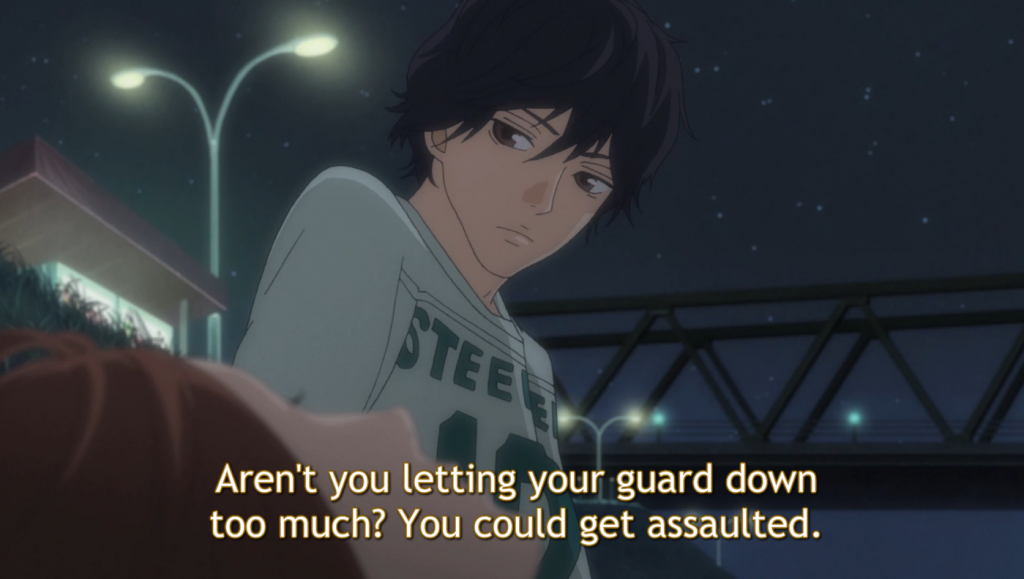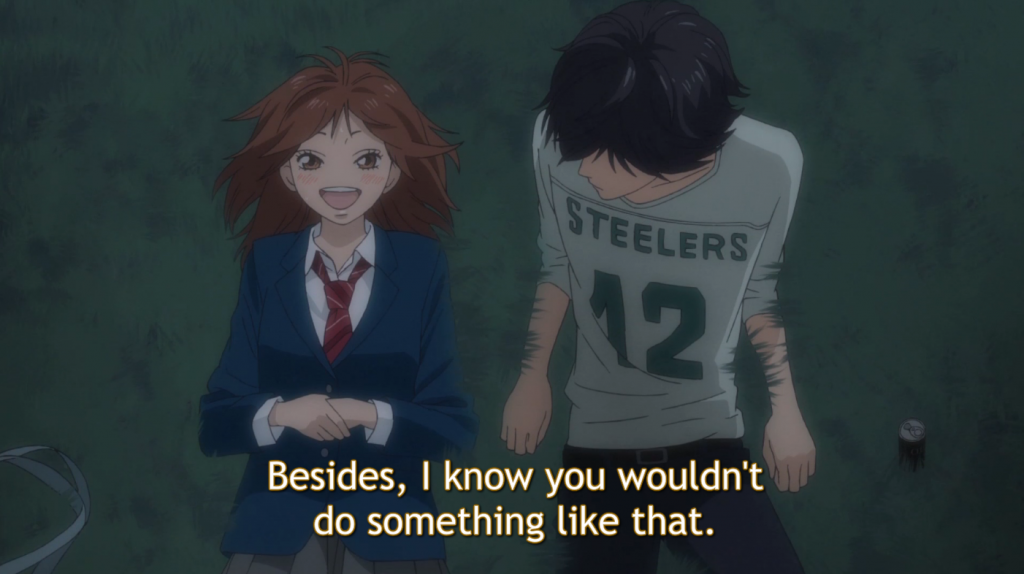 Really, Futaba? You're right, but he's kinda mad right now, so he's going to scare the sh*t out of you.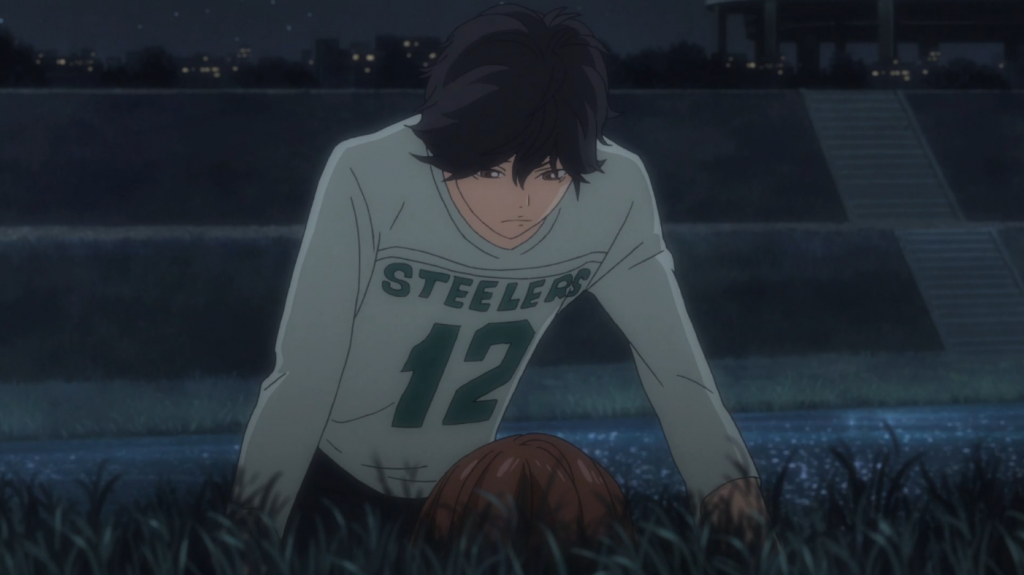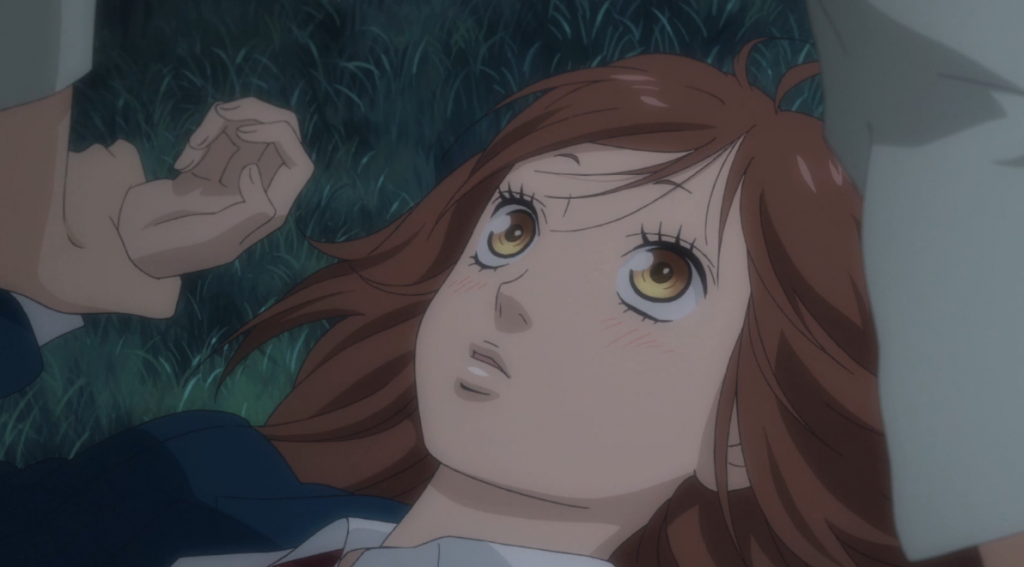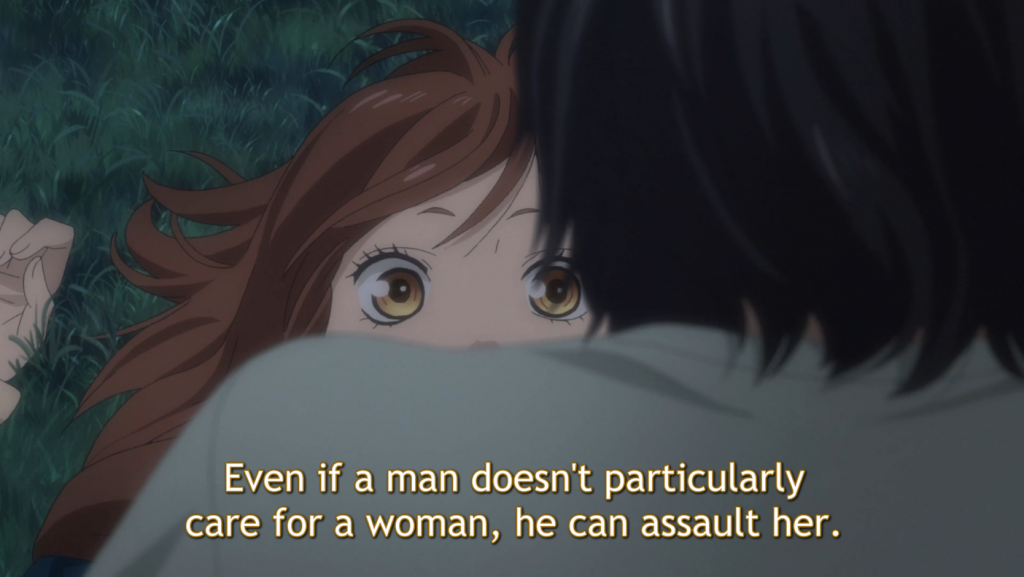 And then we get the ultimate scene from this episode…the almost kiss. He flicks her forehead instead of kissing her. Geez, Kou. You're angry, but you want her. So you try to scare her, but really you desire her, too. Poor Futaba. It's no wonder she almost has a heart attack. And cries.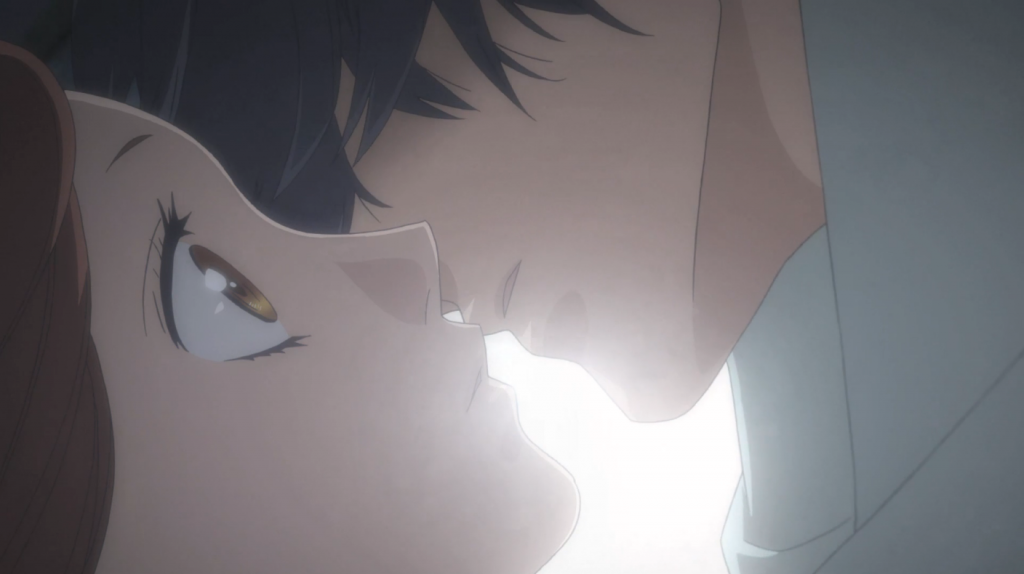 Well, Futaba's crying but it's not because she's scared of Kou. Really, she WANTED that kiss. Then he didn't deliver. It's sooo disappointing. I'd cry too if Kou didn't kiss me. She's crying but admits to herself that she's embarrassed over how excited she got. Well, duh girl! He mounted you!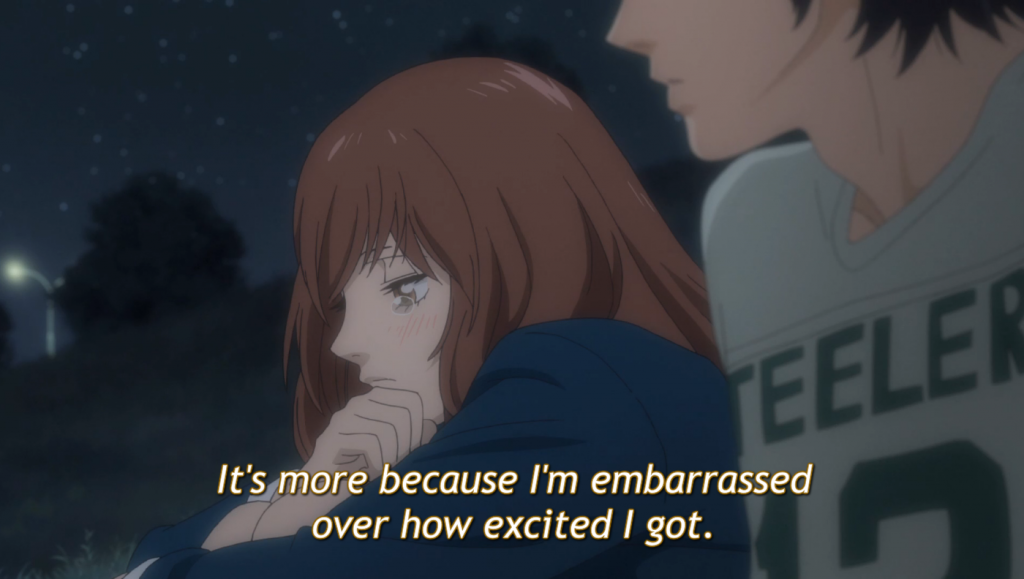 I hope Kou is satisfied with her reaction. He sure was peeved. Of course it was to make a point about her safety. He tells her not to go to that place again.
So we're left with the two of them on the riverbank. I hope Kou takes her home especially since he just pulled that on her. Since he almost kissed her, what will Futaba think now? It becomes more and more clear every episode that Kou's feelings are still there, and Futaba's insistence on meddling with him communicates to Kou that she still cares as well. He's trying really hard not to care, but I think Futaba's persistence will pay off in the end. Kou's angsty quip, "Caring for things brings a lot of trouble," should ring true for Futaba now. She's in trouble and he's gonna give it to her! LOL!
See you next episode!
Author/Editor
Super mom and teacher until the kids go to bed, then romance manga addict and writer until the caffeine wears out! Specializes in the shoujo and josei genre of manga and anime.
Latest posts by Laura (see all)