Currently Watching: October/November
October 28, 2015
I'm a big fan of reverse harem anime and live-action Asian dramas, so that is what's dominating my watch list this month. All the anime on the list are Fall 2015, so if you are new to any of them you aren't too far behind.
STARMYU
This is one of those shows I decided to give a try. This despite not being a big fan of this kind of person-goes-to-academy-to-be-a-star, a la Uta Prince no Sama, which has a similar theme (albeit, it's a reverse harem anime based off an otome game). Watching animated characters dance leaves me with second-hand embarrassment BUT I was taken with STARYMYU. I'm not even sure why yet, especially since the random songs are irksome. I better get over it if I plan to keep watching – which I do. You can find STARMYU on Funimation.
From Funimation: Ayanagi Academy: home of musical dreams and insane competition. New student Yuta Hoshitani dreams of being in show business, but to get there he'll have to gain acceptance from the Kao Council (Cherry Blossom Flower Council), Ayanagi Academy's five highest ranking students. For Yuta and his friends to do well in the music department, they'll have to get onto a Star Team, lead by the Kao Council members. Though the newcomers are struggling, they catch the interest of one of the Kao Council members, which just might send them on the starlit journey they've been dreaming of! From director Shunsuke Tada (Kuroko's Basketball and Prince of Tennis) comes a new show that will have you dreaming of stardom.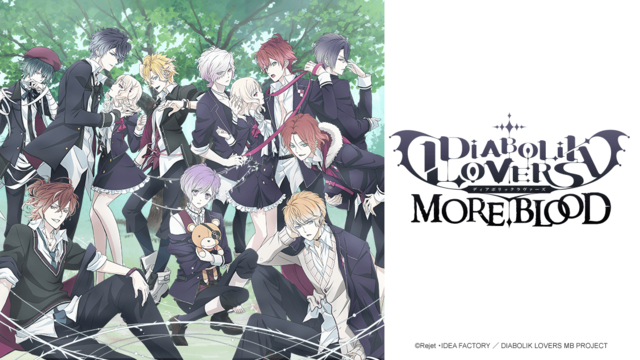 Diabolik Lovers II- More Bloood art
Diabolik Lovers More Blood
I hate that it's only half the size of a normal anime episode. You have a new set of vampires that want our heroine. They seem a  bit more kind than the previous bunch – sort of. I don't try to keep up with all of their names. Despite my interest in this show, there are so many questions – ones leftover from the previous season and new ones from this season. I'm hoping they wrap up this show well, or else I'll have to resort to playing the game. That's probably the point. You can find this show on Crunchyroll.
From MyAnimeList Yui Komori may (or may not) have attained vampire status, but due to her inexplicable links to the Sakamaki clan her life remains somewhat unchanged. Yet troubled by new dreams and apparitions mentioning a mysterious "Eve," Yui's life is suddenly once again – quite literally – turned upside down when she and the Sakamaki brothers are involved in a fiery car crash. The incident heralds the appearance of four new vampires, the Mukami tribe, and to her dismay these dashing young men have their eyes and fangs set on Yui as well!
Dance with Devils
The characters, particularly Lindo and Rem, are really mysterious. I want to know their secrets. For example, what's with Ritsuka Tachibana's brother hiding his job from her (and why is his voice so deep?!)? Is Rem, the main demon, good or bad? The show's first episode starts off pretty hardcore with its chanting music, ritualistic setting, and our protagonist clearly possessed. It's very creepy. So many questions (seems to be a theme with reverse harem anime), I hope it doesn't leave us hanging. This is an original anime series, although the manga began in the September 2015 issue of G Fantasy. I plan to read it. Watch Dance with Devils on Funimation.
From Funimation: From Rejet, the original creator of Diabolik Lovers, and Brain's Base, the studio behind Princess Jellyfish, comes a devilish tale of high school seduction. Second-year student Ritsuka Tachibana has the perfect school-to-life balance, but all of that's thrown into chaos when she discovers that several of her handsome male classmates are actually demons in disguise.
Pink lipstick
This show is like a U.S. soap opera. Pink Lipstick drags you into its clutches with its never ending drama and twists and turns. Pink Lipstick is over the top at times, but it's sucked me into making sure I completed this 149 episode daily drama. Now, I've got to admit, I actually watched most of it last year, but it got so intense I had to take a break. Many, many months later I am back to finishing this delicious show. I love Park Eun-hye's character and how she goes from naive housewife to a woman scorned and ready for payback. The drama and the revenge is delicious and, at times, brutal for everyone. I'm not sure how the major players didn't fall out from exhaustion with their revenge plots. It's more exciting than a tennis match in that regard. I just hope the good guys come out on top. You can find Pink Lipstick on Dramafever.
*From DramaFever: * Yoo Ga Eun (played by Park Eun Hye) is the kind of kind-hearted woman that everyone loves. After falling for Park Jung Woo (Lee Joo Hyun), she dates and then marries him. She has a perfect, happy life, especially after they adopt a daughter. One day, however, she discovers that her husband had an affair with her best friend Mi Ran (Seo Yoo Jung), and that her adopted daughter is the product of that liason.
Shaken to the core, Ga Eun sets out on a course that proves that even nice women, when betrayed, can enact justice on those who hurt them. Leaving Jung Woo and taking her life in her own hands, she marries wealthy businessman Maeng Ho Geol as part of a carefully-constructed revenge plan.
When a man named Ha Jae Bum (Park Kwang Hyun) unexpectedly enters her life, he may be just the one to offer her the love that her husband didn't – but can she learn to trust again? And when Jae Bum promises to support her no matter what, will she have to sacrifice him to gain revenge? Meanwhile, her ex-husband and scheming best friend discover that the woman they always took for granted has more to her than meets the eye…

Current News and Trends Writer
Writer/photographer obsessed with villains and megane. Hobbies include watching anime and dramas, gaming, eating Korean food, and reading.

Latest posts by Adrienne (see all)