Digital Shoujo Reviews – Gleam, Peach Heaven, A Springtime With Ninjas
April 11, 2017
With the increase in digital releases, I've been drawn to review some of the new titles that are digital only. This past month I've read three of these titles. Here's the lowdown on some new digital-only series.
Gleam by Aya Shirosaki – Cross Infinite World publishing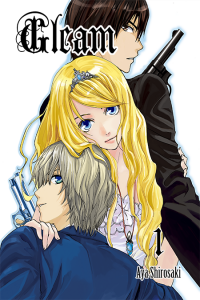 Synopsis from publisher: The small kingdom of Steliol is rife with the machinations of nobles and politics. Princess Salia, the 17-year-old daughter of the king, rules the country with the people's support. She is gifted with beauty, an aptitude for politics, and has the blessing of her kingdom's god. She even dared to invade a neighboring country to stop a war and succeeded. Princess Salia is the definition of noblesse among her people, when in a sudden twist she decides to study abroad in Japan. Will Salia's abrupt decision give her enemies the chance they seek to eliminate this princess for good? Those who seek to do her harm will have to contend with her royal bodyguard and the special agents assigned to protect her first.
Review: I was drawn to this series by the premise of it being an intrigue and thriller type story. We don't get a lot of shoujo titles in North America that fall in that category. The series starts with the exposition of our main character Princess Salia and her bodyguards.  Salia's story is slowly revealed and in this first volume, all we can tell is that our princess is in deep trouble. Her main love interest is a CIA agent and he's also got something to reveal as well. The characters were introduced well and there is obviously a lot more plot to develop.  I found Gleam quite interesting but I think it's going to take a couple of more volumes before there's a real connection to the characters. The art is superb, and the translation was great. Font choice was questionable in some places due to readability. Overall the first volume's piqued my interest and I will be picking up the second.
Heart of Manga Rating: ♥♥♥ – Will be picking up volume 2 to see more.
Peach Heaven by Mari Yoshino – Kodansha USA publishing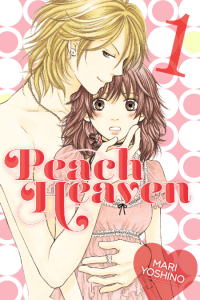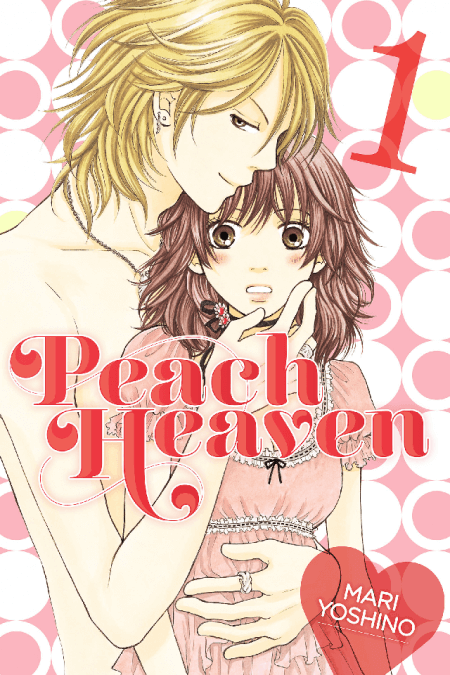 Synopsis from publisher: At first glance, Momoko Shina may appear to be nothing more than your average high school girl, but she has a secret identity—as the famous erotica author "George Aihara"! After she witnesses an intimate moment between one of her teachers and the supermodel Ranmaru, she borrows a little too much from reality in an effort to beat the deadline on her latest story. When Ranmaru gets wind of this, he makes Momoko an offer she can't refuse … Watch the sparks fly as these two try to figure each other out in this high-tension romantic comedy!
Review: This shoujo manga is what I consider a guilty pleasure. The main girl writes erotica but is a virgin. Ranmaru is hot, and he has no problem (ahem) riding anyone.  The whole premise of the story revolves around sex.  If you are shy to intimacy between characters, then this probably isn't for you.  I loved it, however.  The sparks between the two protagonists are explosive, and the girl writing erotica and describing sex was terribly funny. Yoshino-sensei's drawings are a pleasure to look at and the translation by Kodansha immerses you right into the scenes.  The combination of comedy and chemistry make this a not to miss title for romance fans!
Heart of Manga Rating: ♥♥♥♥  – I'm looking forward to volume 2 at the end of this month!
A Springtime With Ninjas by Narumi Hasegaki – Kodansha USA publishing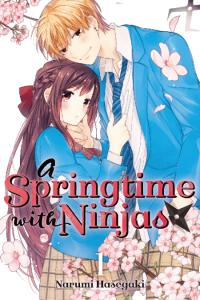 Synopsis from publisher: Benio is the heiress of the richest family in Japan, and tradition holds that she must marry the first person to kiss her. So that she can attend high school, Benio is assigned the ninja Tamaki as a bodyguard, but he turns out to be quite the player. It's not always easy for a strong-willed rich girl and a smart-alecky ninja to get along in this romantic comedy about a pure young lady and her smoking-hot knight.
Review: I've read the first two volumes of this one, and it's shoujo cute. It's a light-hearted read that's just fun. The main protagonists are childhood friends that were separated when younger. Ninja bishie is her bodyguard now, and sheltered heiress has no idea how to go anywhere without getting kidnapped – and guys trying to kiss her! The stealing a kiss gimmick is a great tease throughout the series so far. It makes for some high tension romance. The art in this series is great and the translation is spot on. The second volume would have made a perfect ending to the story, but it looks like it is continuing. I'm looking forward to more and hope it doesn't get repetitive.
Heart of Manga Rating: ♥♥♥    – Highly enjoyable and fun read.
All of these series are available for purchase on amazon.com .
Review copy of Gleam provided by Cross Infinite World publishing.
Author/Editor
Super mom and teacher until the kids go to bed, then romance manga addict and writer until the caffeine wears out! Specializes in the shoujo and josei genre of manga and anime.
Latest posts by Laura (see all)