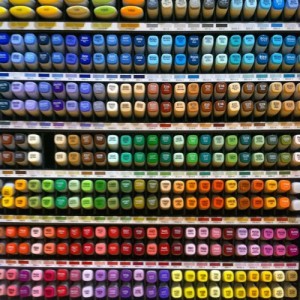 Did I ever tell you guys I was an artist? I can't remember. I know I've admitted to doing the graphic design for the blog on several occasions, and I often piddle in creating new layouts for the featured art that flashes in the big rectangle up above.  I've been drawing since I was a kid, and took art as an elective all throughout school. However, I was discouraged from pursuing it beyond just a hobby. 
When I fell in love with anime about ten years ago, the first thing I started doing was drawing it freehand off of the television screen. I'd put the DVD on pause and draw my favorite characters. It was fun and good practice. I decided I really liked the simplistic line art and cell shading.
So I next tried to draw my own characters, and write a web comic. Of course, that was about the time my son was 20 months old, and I was staying home as caregiver full time.  I had a few spurts of time to draw, but not enough to dedicate a weekly post for a web comic. I got two full character designs and two full strips. Turns out my humor is too corny, and I wasn't satisfied with the art. That was when I started blogging about manga instead.
But I've never given up my love of drawing manga. I recently opened up a set of copic markers that have been sitting on my art table for three years. I know…it's soo sad. The markers were bought when I was staying home with my son, but I went back to work shortly after and they were neglected. With the career struggles I've had lately, I find myself going back to my root love of art.
I've felt unmotivated to write about any of the manga I've been reading lately, and I realized it's because I've been spending more of my free time coloring. I like to sketch and watercolor, and the copic markers provide some great control for a loose medium like watercolors. They blend fantastically! I've found a new medium that I really enjoy playing with, and I really want to improve my skills.
Edit: After Charles's comment I realized that the first two images don't really give an accurate picture of my skills. They were just to show an example of what I was talking about. If you're interested, you can view some of my completed and more recent pieces on deviantart at ElleSensei.