First Impressions: First Love Monster – Akira Hiyoshimaru
September 8, 2015
First Love Monster, translated from Hatsukoi Monster, is drawn by Akira Hiyoshimaru and currently runs in Aria shoujo manga magazine. It is up to 5 volumes in Japan, and we have the first volume from Yen Press as of this past July.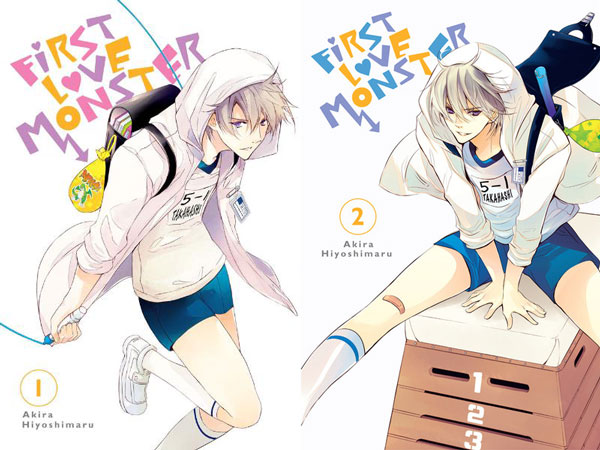 The Gist: When fifteen-year-old Kaho Nikaidou leaves her sheltered home to start life anew in a Tokyo high school dormitory, the last thing she expects is to nearly get hit by a truck! Saved in the nick of time by a handsome stranger, Kaho falls head over heels for him and, after finally tracking him down, boldly confesses her feelings. Turns out Kaho's mystery savior, Kanade, is the son of Kaho's new landlord! The handsome object of Kaho's affection agrees to go out with her, but her newfound bliss is short-lived when it turns out that her new boyfriend…is a fifth-grader?!
The Review: This series has got a lot going for it in the unique department. The main characters look opposite their ages. The two protagonists don't go to school together. The cliche love at first site doesn't turn out to be a perfect match. I have to give the mangaka credit for trying to stand out. But I'll willingly admit that  I had a difficult time with the visuals in this series.
Don't get me wrong, I love me some bishie boys, and the guys in First Love Monster are hot, hot, hot. But watching Kanade, who looks like a high-schooler, act his ten year old age was a major turn off. My brain was all over the place tying to reconcile what my eyes were seeing with the actual facts of the story. A high school girl who looks like a six year old, with an elementary school boy who looks seventeen. UGHH!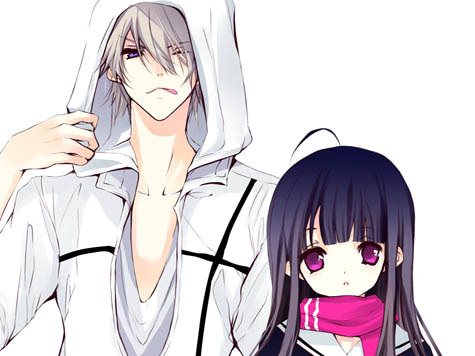 I found the female lead Kaho somewhat lacking as well. She's self-deprecating all the time, and she immediately falls in love with some guy who saves her. (Meh. You fell in love with a fifth grader. He's cute and all, but you'll probably end up babysitting.) The characters all live together, so that will get interesting as the story progresses. Kanade's friends, who also look like teenagers, all provide some interesting dynamics as well. The only one who looks like an elementary school kid is actually the most responsible – go figure.
In the second book Kanade's big brother shows up, so I think I will continue the story a little longer to see where it goes. But if it continues to pursue this age-gap relationship, then I'm probably out soon. I encourage you to buy the first book and see how you feel when you read it.
The Art:  I love, love, love the character designs and I wish the boys were actually the ages they looked. Hiyoshimaru really can draw characters well. The manga paneling flows easily from page to page, and the dialogue was easy to follow. The colored pieces I've seen are so fun and brightly colored. This series will be so enjoyable to animate.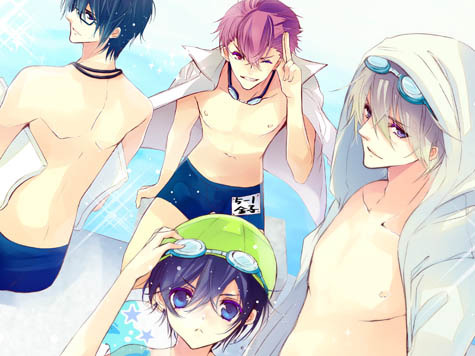 The Audience: First Love Monster would be appropriate for an older teen audience. If you like older girl/younger boy age-gap stories like The World Is Still Beautiful (anime on Crunchyroll) and A Cat and My Fridays (Tanemura's latest series), neither of which is translated,  then you'll probably love First Love Monster.
The Media: Volume 1 of First Love Monster is available from Yen Press. Volume 2 will be released in October. So far there have been 5 tankobans printed in Japan. You can read what's current monthly in Aria shoujo manga magazine. An anime of First Love Monster has been green-lit, but no details about when it will air have been released.
Heart of Manga Rating: ♥♥♥
I'm a visual person, and I don't like the way the visuals mess with my brain. :/
Author/Editor
Super mom and teacher until the kids go to bed, then romance manga addict and writer until the caffeine wears out! Specializes in the shoujo and josei genre of manga and anime.
Latest posts by Laura (see all)