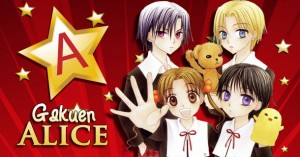 Gakuen Alice, or Gakuen Arisu in Japan, translates to Alice Academy, the setting of this maho shojo series that has been running in Hana to Yume magazine since 2003. Licensed by Tokyopop, the series saw its stateside debut in 2007.  A mix of Fruits Basket meets Harry Potter meets X-Men, Gakuen Alice starts out as a cutesy magical powers story and evolves into something more sinister and emotional.
The Gist: Ten year old Mikan Sakura grew up with her best friend Hotaru in the countryside. When Hotaru is taken away to special school for geniuses, Mikan misses her so much that she decides to travel to Tokyo to find her. Arriving at the gates, she runs into a teacher at the Academy who accidentally discovers that Mikan has the qualifications to enroll at the school. Inside Alice Academy Mikan learns that all the children gathered there have special abilities of one type or another, termed Alices. She is temporarily assigned to a class which reunites her with Hotaru.  Mikan must make friends with the others in her class and become partners with rebel student Natsume Hyuuga, all while trying to identify her Alice in order to stay permanently. As the story unfolds, Mikan realizes that not everything is hunky dory at the Academy and there is someone behind the scenes manipulating students to use their Alices against their will. Then there is an organization on the outside trying to get rid of Alices. Mikan's blissful ignorance comes to a screeching halt as she discovers how her own Alice is related to events of the past. Events that exacerbated this dark existence at the academy. She and her friends are determined to save all the students.  That means facing the past and overcoming the evil that makes Alice Academy the unhappy place it has become.
The Characters/Romance: Like Fruits Basket, Gakuen Alice has a large cast. Main character Mikan Sakura has her smaller circle of close friends which include Hotaru Imai, Ruka(Luca) Nogi, and Natsume Hyuuga. Then there are her elementary classmates, students from the middle and high school school divisions, and teachers and staff at the academy. It is a daunting list. I have to praise Higuchi's creativity when it comes to Alices. There are many unique abilities, and some of them are so comical.
Mikan Sakura is a girl of strong will, who is outgoing and extroverted. A literal Pollyanna, she tries to see the positive in everything and is always the one smiling to brighten up the gloomy attitudes of her friends. Her exuberance for daily life and hopeful attitude is what becomes a beacon of light for Natsume Hyuuga, who is at the depths of despair when he meets Mikan for the first time.
Natsume Hyuuga is the highest ranked student in Mikan's class. This is because he has a dangerous fire Alice. Forced to come to the Academy against his will, and use his Alice in ways he would rather not, he is rebellious towards any authority. He is the second person to discover Mikan's Alice, and is forced to become her partner because of her compatibility. Natsume's role in this series is the starring male protagonist alongside Mikan. Higuchi made him a rebel and then wrote him a compelling back-story so that all the girls out there would adore him. He's powerful and protective, but can't always do what he wants because he is a child.
Ruka(Luca) Nogi is Natsume's best friend. Even though his parents were trying to avoid Ruka's enrollment at Alice Academy at all costs, Ruka decides to leave with Natsume when the scouts discover him. Natsume and Ruka are eachother's first best friends and their loyalty towards each other is heartwarming. Ruka is the kawaii character of the group. His Alice is animal pheromones, so whenever he interacts with animals he becomes this blushingly cute little boy. His demeanor is sweet and he genuinely cares about his friends.
Hotaru Imai is the tsundere character. She acts like she can't stand Mikan's stupidity, but actually she loves her friend dearly. She criticizes Mikan all the time, but then turns around and creates something to help her. Hotaru's Alice is invention, and Higuchi uses it to come up with some fun but wacky gadgets that make the friends' adventures comical.
As for romance, the first confession comes from Ruka. He asks Mikan to exchange Alice stones before she even knows what they are or the meaning behind it. When Natsume finds out, he gets jealous. Every time Ruka makes a move on Mikan, Natsume decides to one-up him. This leaves Mikan somewhat confused. The boys work it out eventually and it becomes clear that Mikan has feelings for Natsume that have evolved from rivalry to love.
I'm surprised this story doesn't have more of a following, and I can only imagine it's because like Fruits Basket it starts out with an opposite impression. The early part of the the story is misleading, as it gives readers the notion that this is going to be a story about a girl and her silly exploits at a magical academy. Several volumes in, it becomes apparent that Higuchi is going for something deeper and more meaningful than that. That's why it reminds me of Takaya's series – because of the darkness that is hidden under this shiny premise of a story. A lot is revealed in what is known as the "time-travel arch" which takes almost five volumes to cover. What is disappointing is that Tokyopop closed right at this point of the story. The last volume published was 16, and volume 17 is where the time travel arch starts. So if there is a publisher out there reading this – this story needs rescuing! It's still running in Hana to Yume and has a large fan base.
The Art: Higuchi's series follows the usual tropes of shojo toning. I think it's a little too much at times, but there are a lot of dark moments, and the toning can really accentuate this. The character designs are well done, and the paneling is easy to follow. There are several colored pieces for this series. What I find interesting is not just Higuchi's subject matter but what she implies with the composition.  One piece in particular I found disturbing at first glance, as it looks like some nude adults in bed with nude children. When I took a closer look, I realized it's actually a family tree, and a very creative way to do it. Several of her pieces are done in this manner. It's not typical of what I expect for character compositions.
The Audience: Gakuen Alice is a shojo series, and the relationship between the main characters stays at a cuddly level, no more than kissing. What we have available in the states does not go beyond that. However I do know that later volumes include scenes of intimacy and murder, so if your little darling decides to go looking for scans to find out the rest of the story, be aware that the later content is more appropriate for older teens.
The Media: Gakuen Alice is available in the states from Tokypop up to volume 16. It is quickly becoming more difficult to find, so if you really enjoy it, get your copies now. A 26 episode anime was produced and aired in Japan. A subbed version of the anime was published in the states by Right Stuf entertainment in 2009. There have been 3 drama CDs in Japan, as well as 3 video games, and an official fan/art book.
Heart of Manga Rating: ♥♥♥♥♥ Love It!
I haven't gotten into maho shojo characters this much since Card Captor Sakura. Mikan and Natsume have made my all time favorite couples list. I urge you not to dismiss it if you aren't hooked by the first volume. The exposition of characters takes a while, and the story really starts to get deeper as the books continue.