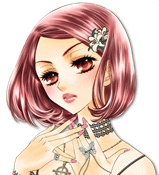 If you're interested in looking at Christianity in anime and manga take a click over to Beneath the Tangles. I recently volunteered to analyze the main character of A Devil and Her Love Song, Maria Kawai, and how she exemplifies the characteristic of grace.
Those posts titled Maria Kawai's Amazing Grace, will be run in two parts – one today, and then another next Tuesday. It's an interesting discussion and I hope you will take a look just to chime it.
Thanks to Charles and all the writers at Beneath the Tangles for letting me participate in your ongoing conversations!