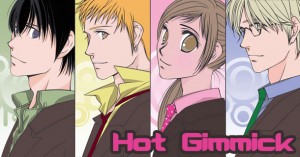 Hot Gimmick ran in Betsucomi from 2000-2005.  The series was published in the states by Viz Media from 2003-2006.  Hot Gimmick is a series aimed at shojo readers but contains adult topics. A submissive protagonist surrounded by guys who all need therapy makes for some entertaining but messed up relationships.
The Gist: Hatsumi Narita lives in company housing with her mom, dad, sister, and older and younger brothers. Social status among the members of the housing units is paramount, and at the top of the pyramid is the Tachibana family. The story begins with Hatsumi having to run a scandalous errand for her sister, Akane. Trying to keep a low profile so that no one in the housing will find out, Hatsumi accidentally crashes into Ryoki Tachibana, only son of the Tachibana family. Ryoki sees what falls out the packaging and blackmails Hatsumi into becoming his slave. Meanwhile, Azusa Odagiri, childhood friend of Hatsumi and her older brother Shinogu, has returned to company housing to live with his father, since his mother recently passed away. Working part time as a model, the girls at school are ga-ga over him, but he only has eyes for Hatsumi. Then there's hard working, college attending Shinogu. He still lives at home but works endless hours because he feels that he has to pay back his parents for everything. When Shinogu realizes that Hatsumi has romantic feelings for Ryoki, he packs up and moves across town with no explanation. Hatsumi is surrounded with troubling circumstances, and it will take the help of all of these guys to reveal the truth of the matter and resolve the upsetting issues.
The Romance/Characters: The series Hot Gimmick is criticized for normalizing an abusive relationship. The sad thing is, that's true. Miki Aihara does write the story so that Hatsumi responds to the abuse she receives and rationalizes it. I'm not sure where she got such insecurity, but she feels as if she is responsible for others feelings as well as her own. She is naive and gullible, but that makes her kindhearted and gentle as well. Hatsumi can be overly sympathetic and that makes it easy for people to take advantage of her – including her own family members. Hatsumi puts up with a lot because she does not want to ruin her family's reputation in the housing. I found her to be a sweet personality but it was difficult to watch her be so indecisive and submissive.
Ryoki Tachibana is one of the abusers. He blackmails Hatsumi, manipulates her into make out sessions and sex, throws her up against walls, and even hits her across the face at one point. Despite this, Hatsumi still falls in love with him. He did do some redeeming things, such as trying to attack Hatsumi's rapists, saving her from a burglar, and manipulating his mom to fix the Narita family's reputation. But Ryoki really has some deep psychiatric issues. He doesn't feel loved or wanted by his parents, and he lacks peer to peer social skills because his mom always kept him isolated, believing him above other children. He only knows how to use force and manipulation to get what he wants. When he gets overcome with emotion, he even has nervous breakdowns and gets sick. However, his feelings for Hatsumi are very genuine. He loves her, but just doesn't know the right way to interact with her.
Asuma Odagiri is another complex personality, and could be considered another abuser. He and Hatsumi were childhood friends, and both have fond memories of each other. Despite his feelings of affection towards Hatsumi, his hate and resentment are even stronger, and he decides to use Hatsumi in his plan for revenge. He attempts to have Hatsumi gang raped in order to emotionally destroy Hatsumi's father, who he believes is responsible for a wrong-doing in his own life. When his attempt fails, he is distraught, and disgusted with himself that he took such actions. (Hello! Red flag for another guy that needs therapy! ) What does Hatsumi do? While he is attempting to have her raped, she actually apologizes for whatever her father has done. Then she forgives Asuma because she understands that he is so upset over the death of his mother. Asuma then gets together with Shinogu to try to get down to the bottom of what actually happened with the Narita's father.
Shinogu Narita is the character most like Hatsumi. He is sympathetic towards others. He gives up his dream of becoming a doctor because he knows his parents can't afford medical school, and he works tons of part-time jobs to pay for his college and living expenses. He is overly protective of Hatsumi, because she was the first person to unconditionally love him as a child. Things become complicated as the past is dredged up, and readers find out more about Shinogu. He has his own baggage as well, but has done a decent job handling himself. He is very affectionate towards Hatsumi, and Hatsumi very much looks up to him as her big brother.
Hatsumi's sister Akane is the character that I feel undergoes a positive transformation throughout the series. Although she remains always boy crazy, at the beginning of the series she is very promiscuous and manipulative. She uses Hatsumi to take care of her dirty work, and then decides that she is going to be the one to date Ryoki, after he has already made Hatsumi his slave. Once she is rejected by Ryoki, she starts to evolve a little more and gets a crush on Subaru.
Subaru is actually the most decent guy in the series. He is characterized as an avid otaku and Gundam fan. His personality is genuinely sweet, and he is supportive of Hatsumi and Ryoki who are both his friends.
There are three possible love interests for Hatsumi in this series. After carefully analyzing the characters though, I think Hatsumi should have chosen none of the male leads that Aihara wrote for her. Wait to graduate high school, and look for another boy in college. (Hear that teens?!) None of the relationships Hatsumi had written by Aihara were very healthy in this series. The best couple would be Akane and Subaru.  Theirs was a little side story interspersed throughout the series. Subaru learns how to interact with girls, and Akane learns genuine feelings of affection for one guy, and how to accept him the way he is.
The Art: I would say that Aihara's style for Hot Gimmick has a mod-hippy flair – pastel colors with bright neon accents and geometric patterning. Several of her chapter titles have grid outlays or polka dots. There are elements of shojo toning in the more dramatic scenes, but it is used effectively to convey mood and is not overdone.  Aihara sticks with realistic drawing throughout most of the series because the scenes are dramatic. There is not a lot of comedy, so there are very few instances when you see characters in chibi form. I think Aihara does a terrific job of making the characters all look very different. I never had a problem identifying the characters at any point in the series. I believe that has a lot to do with Aihara's ability to express the characters so well visually. The body language and facial expressions do a lot of the talking for the characters. So not only do you recognize characters by look, but also by posture or expression. With the visual cues there is no need for a lot of crammed dialogue, either. This leaves more room for the nicely detailed drawings I've come to expect of Aihara.
The Audience: This series would be categorized as lustful since the topics are very complex and there are scenes of abuse and nudity. Although categorized as shojo, I think this series is most appropriate for ages 16+.
The Media: The initial 12 volume run of Hot Gimmick here in the states was published by Viz from 2003-2006. They have since combined the volumes into 4 omnibuses known as VizBig editions which were republished starting in 2009. Hot Gimmick is unique in that it received an alternate ending graphic novel titled Hot Gimmick S, which was published by Viz in 2007. There were 2 drama CDs released in Japan.
Heart of Manga Rating: ♥♥ 1/2
There are many emotional moments in this series and it is addicting to read once you get into it. However, the story ending is unsatisfactory and the characters are poor role models. But if you'd like to see how demented these characters get, because it makes you feel better about your own life, then you might enjoy this series.