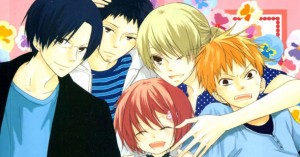 Me and My Brothers, known as Onii-chan to Issho in Japan, ran in LaLa magazine from 2004-2009. It was brought to the states by Tokyopop and published from 2007-2010. Me and My Brothers is a blended family story that succeeds in sibling bonding, but pushes standard stereotypes when it comes to romance.
The Gist: Middle school student Sakura Miyashita has been living with her grandmother since she was three, when her parents both died in an accident. When her grandmother passes away, Sakura prepares herself for her life of loneliness. Only to come home one day from school and find four boys age seventeen to twenty-five claiming to be her brothers. When she is presented with a letter from her deceased grandmother explaining the situation, Sakura embraces her new family life. The story follows the reunited siblings and the trials they face as they reestablish their familial (and not-so-familial) bonds.
The Characters/Romance: I'm going to first complain about the brothers' names. Masashi and Tsuyoshi were okay, but trying to keep Takeshi and Takashi straight when they are new characters was difficult! One letter name differences leads to editor typos as well. Not a good idea! There, got that out of the way.
Sakura Miyashita proves herself to be an independent girl who loves her family. While she has very faint memories of her brothers from her toddler years, she appreciates their support and concern for her as a teen.
Masashi is the eldest brother at twenty-five. He is a cross-dresser who likes to pretend to be the mother of the household. Masashi is the most attached to Sakura, as her mother, his step-mother, happens to be his first crush as a teen.
Next is Takashi, a twenty-three year old teacher at Sakura's middle school. He's the most practical and sensible of the brothers.
The tsundere brother comes next, Tsuyoshi. Tsuyoshi is nineteen, and considers himself a full-time part-timer, working several different jobs. He is the brashest amongst the brothers, most likely to pick a fight, and is very sensitive when it comes to Sakura.
Takeshi is the youngest brother at seventeen. He is the quiet type, not very outspoken. He enjoys gardening, but Sakura is still his favorite flower.
My biggest issue I had with this series is the romantic relationship that occurs between Sakura and Masashi. I may have been able to accept it more readily if Tokeino had drawn Sakura more mature, but her character design makes her look like a six year old. By the end of the series Sakura is sixteen and Masashi is twenty-seven. I know that an eleven year difference is not that large of a gap for older couples, but for teens and twenties – it's a huge one. Plus Tokeino draws Masashi dressed as a woman throughout the series. I just couldn't accept this visually skewed, reproachable relationship.
If I were writing it, I definitely would have matched her up with one of the two younger brothers. Tsuyoshi was just so cute when it came to Sakura, and he did have a bit of a crush on her. He was determined to keep Masashi away from her because he was afraid what Masashi might do to her. Takeshi would have been the most likely target of her affections since they are closest in age and Sakura is attending the same high school as Takeshi graduates from.
The Art: I enjoyed Tokeino's art style. It's typical for a shojo mangka. That said, there was nothing really remarkable about it either. My biggest gripe is of course, the character designs, but I'm sure those are deliberate.
The Audience: The series is about family bonds and romantic inclinations, but never goes further than a kiss. In that sense it is appropriate for teens and I would rate it as cuddly. My only hesitation as a parent would be that I wouldn't want my daughter to think that at 14 she can kiss a 25 year old guy. That would be a topic for discussion if your teen reads it.
The Media: All 11 volumes were published in the states by Tokyopop. It's a harder series to find now, so check local libraries or used book stores to find copies. The only extra media was a drama CD produced in Japan.
Heart of Manga Rating: ♥♥♥
It's an entertaining series, but I really didn't care for it. I just couldn't wrap my head around the romance, and I'm sure that's because of my own stereotypes. The family aspect is endearing however, and seeing the siblings as younger kids with their parents is darling. They made a great family.