**This manga moment is brought to you by  TROJAN-XL  : Guaranteed to fit the most swollen egos!**
Just kidding!  But that's a hint at what the memorable moment is about.  This one cracks me up no matter how many times I've read it or seen it.  It is a josei manga, so it may be NSFW, but no naughty images.  Main character Choko is seducing her boss/servant Masayuki and decides to give him a real treat.  Thing is, Choko has no experience or expectations.  So when she gets to undressing Masayuki, she discovers a real surprise.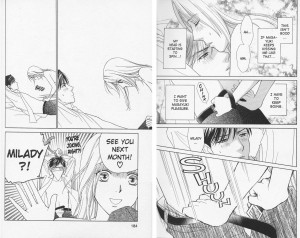 The scene just gets funnier from there.  Poor Masayuki, he doesn't get any pleasure because he just can't fit.  It's laugh out loud hilarious.  Yuki Yoshihara does a great job with the change in art style to time the comedic imagery just right.  It's also a more real take of a first experience, not something romantic and flowery.  It reminds me of that Zoosk.com commercial of the man and woman who are trying to get it on in a candle-lit mirrored room, but just keep hurting themselves or breaking objects.  Yoshihara is great at slapstick naughty comedy.  If you haven't read this series yet, you're missing out.