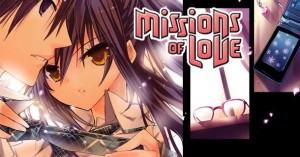 Missions of Love, originally Watashi ni xx Shinasai, is a romantic comedy in a high school setting that is being published by Kodansha USA. The first volume was released in North America in November 2012, and the second came out in January 2013.
The Gist: High school student Yukina Himuro is a cell phone novelist that writes romantic fiction. But lately her stories seem to be lacking against her biggest competitor due to not enough romantic action. The problem is Yukina cannot write what she has not experienced, so to remedy the situation she must find herself a lover, fast! But Yukina is not popular girl material, so how is she suppose to attract a guy? Why blackmail, of course! And she finds the perfect guinea pig in popular boy Shigure Kitami. Hijinks and chemistry ensue as Yukina and Shigure face off for romantic dominance.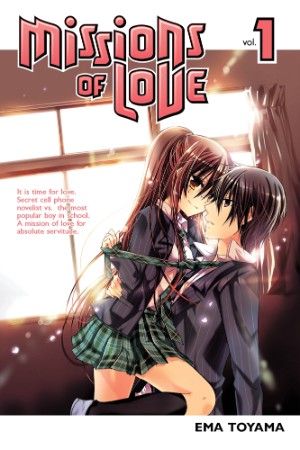 Review: Missions of Love is a highly entertaining and comical piece of shoujo if only because it switches gender stereotypes. In typical shoujo manga, a girl is being manipulated into romantic situations by a dominant male. With a quiet intellectual like Yukina in charge, Shigure has to watch himself or be forced to participate in her nookie schemes. From a female perspective it's terribly fun to watch Shigure squirm and try to outsmart Yukina. Then laugh when she bests him anyway. Another pleasure from a romantic standpoint, is watching the two characters bungle through their emotions as the attraction ignites. Shigure is angry at Yukina for manipulating him, but it still piques his interest that a girl would dare to do so. Yukina has always been objective about the opposite sex, but when Shigure rouses her desires, she loses her ability to keep her emotions out of play.
What isn't atypical about this series is that there are plenty of steamy scenes between the two main characters. Ema Tooyama writes them well, and fans have bought it and demand more. The romantic plot of having two characters at odds with one another fall in love is another well trodden path in romance literature. It always makes for an interesting courting. And if Missions of Love is anything, it's interesting to watch play out.
The art in the series is very well drawn. Paneling is dynamic, the characters are detailed, and the toning accents the story well. The colored pieces are fantastic with a good sense of lighting and color scheme.
The Audience: The story is rated older teen for good reason. No one wants to put it in the head of a tween or young teen to manipulate someone into making out. The first two volumes I've seen so far are not much to worry about however. The most you get is hand holding, hugging, and a kiss.
The Media: Watashi ni xx Shinasai!! is ongoing in Nakayoshi magazine. There have been 11 volumes published in Japan, so we have many to look forward to here in North America.
Heart of Manga Rating: ♥♥♥♥ Highly Recommend
Missions of Love is too fun to pass up and too entertaining to put down!