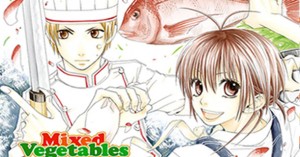 Mixed Vegetables, or Mikkusu Bejitaburu, was serialized in Japanese publication Margaret from 2005 to 2007. Viz media published it in North America, September 2008 to July 2010, for a total of 8 volumes. A great manga series for foodies as well as romance fans, Mixed Vegetables delivers a heart touching tale of being true to yourself and fulfilling your dreams.
The Gist: Hanayu Ashitaba is the daughter of a celebrated pastry chef. She's attending a culinary high school where her secret dream is to become a sushi chef. Fellow classmate Hayato Hyuga is the son of a sushi chef. Hanayu determines that if she dates Hyuga she may get the opportunity to work at the sushi shop. Hyuga seems to like her well enough, and the two start dating. Hanayu then becomes guilt ridden because she starts developing genuine feelings for Hayato, and was only dating him for her future career. Hayato beats Hanayu to the confession however, when he admits he was only dating her because he wants to become a pastry chef! The two must find a way to succeed at their dreams while overcoming obstacles, and their own attraction towards each other.
The Characters/Romance: I rather enjoyed the relationship between Hanayu and Hayato. Komura designed Hanayu to be a determined and independent girl. She sets goals for herself and strives to achieve them. An admirable shojo manga role model. Hayato is similar in that he has a dream he wishes to fulfill, but he is also tied down by other obligations. I love how he decides that if he cannot meet his goal, then he will make sure that Hanayu achieves her dream. Hayato is not the suave bishie boy type either. He is outgoing and well grounded. Komura wrote him to have a strong sense of family, and also empathy for others.
One of the things I really liked about Komura's storyline is that she doesn't let her characters get tied up in the dramatic. There are more scenes of the two working at the sushi shop, or at the high school. There's not a lot of extreme fawning over the couple. The scenes are rather cute when they do finally admit their feelings, and they act more natural than a lot of shojo protagonists. My favorite scene is when Hayato and Hanayu actually cry together over their dreams. It's not very often you get to see a guy show his vulnerability so openly in a shojo manga. While there are some comedic moments, the story is more of a light-hearted tale of fulfilling your dreams. No spoilers here, so you'll have to read the story to find out if they achieve their goals, and if their relationship makes it through the process.
The Art: The panels are pleasing to look at as well as the character designs, costumes, and of course the food. Komura is very detailed about her work and it pays off. Some of the scenes in the pastry shop and the sushi shop are amazing. I like her colored pieces, although there are not that many for Mixed Vegetables, mostly just the cover pages. This is a mangaka whose work I'd like to continue to see. Her current series Usotsuki Lily is running in Margaret magazine, and the colored images are gorgeous.
The Audience: Mixed Vegetables is a story about working hard to fulfill your dreams, and it is a great slice of life for a teen audience. The characters show affection, but it is on the cuddly scale. I deem this highly appropriate for a younger audience.
The Media: Mixed Vegetables is complete at 8 volumes available in the states from Viz media.
Heart of Manga Rating: ♥♥♥♥  Highly Recommend