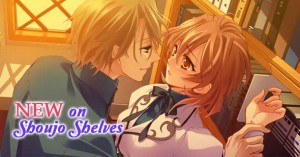 It's the month of love, and if you want a little romance have at the newest volumes of shoujo manga.  Here's what's come out on shoujo shelves for the month of February:
Looks like we've got a good selection for ShojoBeat fans. I'll be checking out Beautiful Creatures as part of my novel turned comic project.
Publisher

Cover

Publisher Synopsis

Ai Ore!, vol. 8

After her house and prized guitar are destroyed in a fire, Mizuki moves in with Akira at the Dankaisan dorm. To help pay for a new guitar, Mizuki gets a part-time job and is wildly successful at it, but she won't tell Akira what it is…

 

Alice in the Country of Joker: Circus and Liar's Game

Alice in the Country of Joker: Circus and Liar's Game continues the adventures of Alice as she goes deeper down the rabbit hole to the country of Joker. Alice Liddel has now entered a new realm – the country of Joker – where she is reunited with old friends. Yet new challenges abound, as Alice must unravel the mystery of the Circus and the Prison Realm, and deal with the enigmatic Jokers.

Beautiful Creatures, The Graphic Novel

Lena Duchannes is unlike anyone the small Southern town of Gatlin has ever seen, and she's struggling to conceal her power and a curse that has haunted her family for generations. But even within the overgrown gardens, murky swamps, and crumbling graveyards of the forgotten South, a secret cannot stay hidden forever. Ethan Wate, who has been counting the months until he can escape from Gatlin, is haunted by dreams of a beautiful girl he has never met. When Lena moves into the town's oldest and most infamous plantation, Ethan is inexplicably drawn to her and determined to uncover the connection between them. In a town with no surprises, one secret could change everything.

Dawn of the Arcana, vol. 8

Princess Nakaba of Senan and Prince Caesar of Belquat only married each other for the sake of peace between their two warring countries, yet the two find themselves drawn to each other even as political forces threaten to tear their world apart. As Nakaba becomes embroiled in the chaos within the country of Lithuanel, Caesar prepares to return to Belquat to face the possibility of execution! Meanwhile, Nakaba's Arcana of Time power reveals some disturbing details about her attendant Loki's past…

A Devil and Her Love Song, vol. 7

As Maria begins to recall bits and pieces of her tragic past, Yusuke tells her that he'll stay by her side and support her, no matter what. Meanwhile, Maria still hopes to reconcile with Anna, so she enrolls in the same music school that Anna attends. Unfortunately, it doesn't seem like Anna wants Maria's help or friendship…

 Kamisama Kiss, vol. 12

Himemiko, ayakashi ruler of Tatara swamp, is happily dating her human sweetie Kotaro. But yokai/human relationships are hard to manage, especially when the human has no idea who he's dating! When the supernatural starts to intrude, can Himemiko tell Kotaro the truth about herself? Or will she lose him no matter what she does?

 Kitchen Princess, Omnibus 3

Najika has always known how to cook. She understands food, and how it touches people's hearts. But she herself has always been looking for more. When she was a child, she met a boy who touched her heart, and now Najika has set out to find this boy. The only clue she has is a silver spoon that leads to the prestigious Seika Academy. Two popular brothers who barely speak to each other recognize Najika's cooking for what it is: magical. Is either boy Najika's mysterious prince?

Lizzie Newton: Victorian Mysteries, vol. 2

Join novelist and part-time detective Lizzie Newton and her dashing suitor, the former lawyer-turned-butler, Edwin White, as they lead Inspector Grey further down the rabbit hole of mystery and intrigue!

 

Skip Beat, vol. 30

Ren's new cast mate Taira Murasame used to be a biker, and he sees show biz as just another gang to get to the top of. Normally Ren would have no problem dealing with a punk, but his role as BJ requires him to tap his darkest depths. When Murasame and Ren have to fight on camera, can Ren remember that it's only acting?!

 

Stepping on Roses, vol. 9

Sumi tries to get Soichiro's company back for him, but she doesn't realize that he's about to embark on a life-changing opportunity. Meanwhile, Nozomu is hellbent on marrying Sumi regardless of any consequences. Can anything stop Nozomu at this point? Or will Sumi and Soichiro find a way to be together?

Wallflower, vol. 30

It's a gorgeous, spacious mansion, and four handsome, fifteen-year-old friends are allowed to live in it for free! There's only one condition – that within three years the guys must transform the owner's wallflower niece into a lady befitting the palace in which they all live! How hard can it be? Enter Sunako Nakahara, the agoraphobic, horror-movie-loving, pockmark-faced, frizzy-haired, fashion-illiterate recluse who tends to break into explosive nosebleeds whenever she sees anyone attractive. This project is going to take more than our four heroes ever expected: it needs a miracle!
Which series are you going to be picking up?