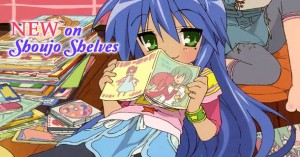 Looking for what's new on those ever shrinking bookshelves at stores? Or maybe you just aren't sure what's been released recently when you order online? Never fear, I've got the most recent shoujo releases lined up all in one place. Here's what's coming out this month for all you shoujo lovers out there.
Publisher

Cover

Publisher Synopsis

 

Ai Ore!, Vol. 5

Much to Akira's dismay, his lecherous tutor from middle school, Sho Kasuga, has suddenly reappeared. Akira has a secret from his past that he doesn't want Mizuki to know, and he's terrified Sho will reveal it!

 

The Wallflower, Vol. 28

Not only is Sunako still far from becoming a "lady" but her relationship with Kyouhei seems to be at a standstill. Meanwhile, the shopping arcade that Sunako frequents seems to be facing hard times due to the economic recession. Will the four handsome boys help to save Sunako's world?

Note: There was no synopsis from the publisher, so this is my interpretation.

 

Puella Magi Madoka Magica, Vol. 1

When a new girl joins her class, Madoka Kaname thinks she recognizes the mysterious, dark-haired transfer student from one of her dreams…a dream where she is approached by a catlike creature who offers Madoka an opportunity to change destiny. Madoka had always thought magic was the stuff of fantasy…until she sees the transfer student fighting with the very cat being from her dream! And just like in Madoka's dream, the cat gives her a choice. Will Madoka become a magical girl in exchange for her dearest desire? What will be the cost of having her wish come true?

 

Oresama Teacher, Vol. 8

Summer break doesn't mean rest and relaxation for Mafuyu. She has a ton of homework to finish, but finds herself distracted when a drunken colleague shows up at Takaomi's apartment. It's up to Mafuyu to convince the guy that Takaomi is a good teacher, but will he take the word of an obvious delinquent?!

 

Sailor Moon, Vol. 5

Usagi Tsukino is a normal girl – until she meets up with Luna, a talking cat, who tells her that she is really Sailor Moon! As Sailor Moon, Usagi must fight evil and enforce justice in the name of the moon and the mysterious Moon Princess. She meets other girls destined to be Sailor Senshi (Sailor Scouts), and together, they fight the forces of evil!

 

The Story of Saiunkoku, Vol. 7

Though Shurei and Eigetsu passed the Imperial Exam with high marks, they are being bullied as they go about their duties as new civil servants in the palace. But it seems the pair may have found an unlikely ally…

 

We Were There, Vol. 14

When you're in love, once you hit the switch…

…no one can really say…

…what will truly happen.

The impossible may even become possible.
Now go out and buy some of these great series. Help the publishers be able to provide us with more of these delightful manga stories and characters!