On the Third Day of Fangirling – 3 Sweet Rein Volumes
December 3, 2015
? On the third day of Christmas my bishie gave to me – 3 Santa-Reindeer Romance Volumes ?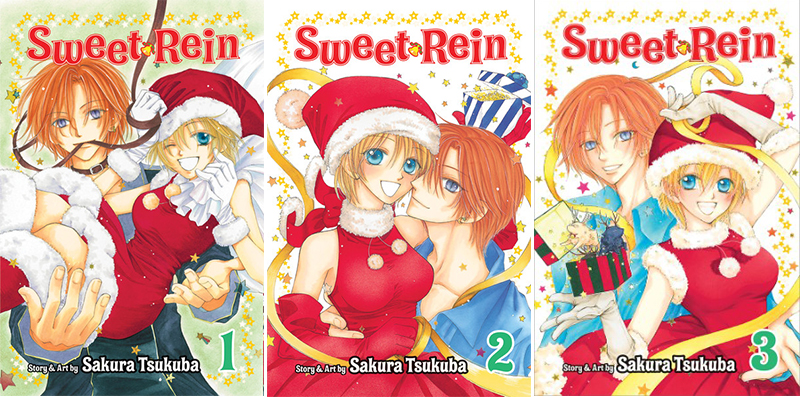 If you're looking for a Christmas-themed shoujo manga for that fangirl in your life, then Sweet Rein by Sakura Tsukuba is the perfect gift. The series is published by Shojo Beat and is a short 3 volumes. And at $9.99 a volume it's just right for your best friend or girlfriend.
What's it about?
Kurumi thought she'd be spending Christmas alone, as usual–that is, until she met Kaito. The moment they touch, the two of them are linked together by the invisible reins of a Santa-Reindeer relationship. Kurumi is 'Santa,' and because Kaito is the 'reindeer,' Kaito must do everything she tells him to and his body reacts accordingly. However, as time progresses, there seems to be something more than just a master-servant relationship…
What's to like?
Sweet Rein is very episodic in nature due to the way it was originally published. Because of this, it makes it easy to pick up and read along at any point. The idea of Kurumi being a Santa and Kaito her dedicated reindeer is a different take on the santa mythos and it makes for an very cute and endearing story. The setting isn't always during Christmas, either. There are summer scenes at the beach, a Halloween party, and spring cherry blossom viewing parties. In fact, my favorite story arc is during spring, when it's reindeer mating season and all the girls are fawning over Kaito. It's very adorable the way Kurumi reacts. There are other santa-reindeer relationships that are explored by side characters in the story, and that makes suspension of disbelief easier on the readers as well. It's not just Kurumi and Kaito that have this special bond, and watching other santa-reindeer bonds play out makes it a more interesting story. I can't recommend this series enough if you want some lighthearted reading. Once again Sakura Tsukuba enchants readers with her vivid imagination and lovable characters. Sweet Rein is perfect for a teen/tween audience, and it would be well received by older audiences as well. The master-servant relationship isn't overplayed or misogynistic in nature. It's actually the girl in charge and she never abuses her control over the boy. Their little romance is very innocent.
Where can I get it?
This wraps up our third day of fangirl gifting. Hope your fangirl enjoys our list of fun gifts this holiday season, and we will be back with the next idea soon!
?On the third day of Christmas my bishie gave to me –
3 Sweet Rein volumes
and a
1 Year Subscription to DramaFever ?
Author/Editor
Super mom and teacher until the kids go to bed, then romance manga addict and writer until the caffeine wears out! Specializes in the shoujo and josei genre of manga and anime.
Latest posts by Laura (see all)