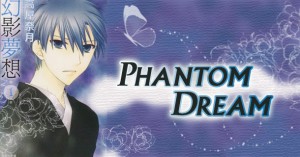 Most shoujo fans are familiar with Fruits Basket, Natsuki Takaya's most well known title in America. Curious I decided to take a look at some of her earliest work. Phantom Dream is Takaya's first series that ran in Hana to Yume Planet Zoukan magazine from 1994-1997. A supernatural romance with well developed characters, Phantom Dream reveals Takaya's budding ability to write a plot twisting romance in a few short volumes.
The Gist: Tamaki Otoya is the last in a line of ancient summoners known as shugoshi. A second year in high school, he has inherited the ability to create defensive shields and summon a shieki and a gohou, spiritual entities that aid in protection. When an ancient rival is reborn, his powers must be utilized to save the local population from jaki, demons that overtake human souls filling them with negative energy. Struggling to deal with this responsibility he relies on his childhood friend Asahi for love and support. Yet Asahi has her own role to play, and leaves Tamaki's side. Determined, the powers of ancient Hira threaten to destroy all of humanity, and it will take all of Tamaki's faith, empathy, and forgiveness if he is to save mankind from total annihilation and find Asahi.
The Characters/Romance: Tamaki is a bishie you can really enjoy. Takaya wrote him as a complex character that goes through many changes through out the short story. He's stubborn at first, unsure about his inheritance and his depth of emotion for Asahi.  He evolves many times in the story because of what he experiences. His sense of loss runs deep, and he is able to empathize with the antagonist of the story. Tamaki is as admirable as any of the male protagonists of Fruits Basket.
Asahi gets Takaya's treatment of abused and neglected. She spends all her time with Tamaki because she's always home alone, unless her mom shows up randomly. Then when her mom is around she beats her up. This makes Asahi thankful for Tamaki, and her love for him is abundant despite whatever role Tamaki must inherit.
The romance is twofold in that Asahi becomes the object of two men's affections. Takaya does establish in the beginning that Tamaki and Asahi are lovers. Their bond is very strong. However Hira wants Asahi for himself, as she is the reincarnation of his love from ancient times. Asahi must make difficult decisions. I was unsure for a couple of volumes how Takaya was going to resolve the romantic plot, but it doesn't disappoint.
The storyline for this just keeps snowballing. Takaya expositions the protagonists and one rival is introduced. The lone rival eventually reveals a great powerful adversary. The struggle between good and bad is decent enough, but then the history/backstory is introduced. Characters are interconnected, parallels are drawn, it's way bigger and complex than I could have imagined from the first volume. The twists and turns came at me unexpectedly, so it was very entertaining. I think this could have been a much longer series.
The Art: It's Takaya's early work, so of course it's not as polished as later series. The anatomy looks stiff at times, and some of the toning choices are hideous. Yet, the paneling still flows well and the characters are very expressive. I wish there were more colored pieces for this series. I don't care for the first set of cover art run by Hakusensha and Tokyopop. But the newer covers in the most recent Japanese printing are well done. I used them for the colored art in this post.
The Audience: Tokyopop rated these older teen due to nudity and complex themes. That would been correct. There is a scene of the protagonists sleeping together, and the girl is nude. There are also some violent scenes. The backstory warrants some understanding of relationships and intimacy. The story would be great for those looking for more of Takaya's works, or if you are a shoujo fan that enjoys fantasy.
The Media: Phantom Dream is available from Tokyopop in five volumes. There are some short stories from Fruits Basket included in the volumes. You might try libraries or used book stores if you have a hard time finding it online.
Heart of Manga Rating: ♥♥♥
Fans of Fruits Basket should check it out. It's highly entertaining for just a few volumes.