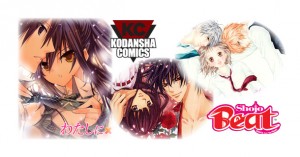 The last couple of days have proven fruitful for shoujo manga in North America. Publishers Viz and Kodansha have announced new licenses acquired for shoujo manga to be released later this year. These new licenses include Watashi ni xx Shinasai! by Ema Tooyama, Strobe Edge by Sakisaka Io, and Ayakashi Koi Emashi by Mayu Shinjo. All series that look very promising for shoujo fans.
I'm most excited about Kodansha's license of Watashi ni xx Shinasai! by Ema Tooyama. To be published as Missions of Love, this ongoing shoujo series running in Nakayoshi has been on my radar for a while now, and I'm so glad we're getting it in English.  Missions of Love revolves around main character Himuro Yukina, a cel phone novelist that writes romances, but her stories are missing out on the more thrilling elements of relationships since she herself has not experienced love. She decides to blackmail popular boy Kitami Shigure into being her guinea pig for things such as kissing and petting. As the chemistry between the two ignite, the encounters lead to something more than just experiments for both parties.
Viz has acquired Strobe Edge by Sakisaka Io.  Strobe Edge is a ten volume series that ran in Betsuma. It is a coming of age story for a younger teen audience that explores the different facets of love. Ninako who has no experience with love,  falls for Ren who is already in a long term relationship. As she faces the challenges of unrequited love head on, things may not be what they seem.
Along with Strobe Edge Viz will also release Demon Love Spell by Mayu Shinjo. Translated from Ayakashi Koi Emaki, Demon Love Spell is ongoing in Margaret with 4 volumes released in Japan as of this post. Aimed at an older teen to young adult audience, Shinjo's series is about Miko, a sorceress who has not had much success in banishing spirits. She then encounters Kagura, a demon that feeds off of women's feelings. In order to stop Kagura from breaking the hearts of all the girls at her school, Miko casts a spell on him. Amazingly, it works, except now Kagura is after Miko!
All titles should be released sometime later this year. I'll be sure to give you an update on when they are coming to local shelves.  YAY for new shoujo! \(*0*)/