Oh, Sketra!!! Yuri on Ice!!! The Soundtrack Review
January 23, 2017
Hopefully you guys are not tired of Yuri on Ice!!! at this point yet.  I know the first couple weeks after the season ended, I was going through some weekly episode withdrawal. But thankfully, the official soundtrack was released on iTunes and other download sites at the end of December 2016. It debuted at No. 3 on the Oricon charts for CDs and at No. 1 in Oricon digital sales in Japan. I saw it get up to No. 24 on iTunes US at one point. Now that I've had a few weeks to listen to it, I thought I'd review it.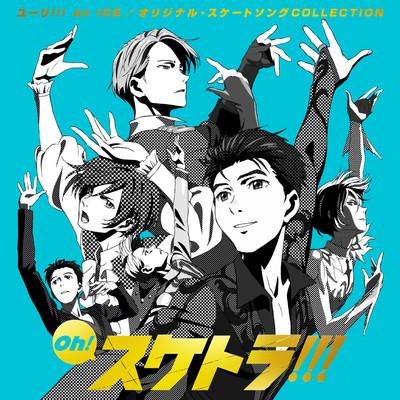 The list of titles in the soundtrack do not include the OP or ED to the anime itself.  I know that surprises some, but both of those were sold as singles, and prior to the soundtrack releasing, I had already purchased those. (So had a lot of other people as well.) The soundtrack includes almost all of the music that was used in the anime's skating routines. That encompasses a total of 24 songs from the anime. Here's the list:
| | | | |
| --- | --- | --- | --- |
| 1 | Aria (Stammi Vicino, Non Te Ne Andare) | 松司馬拓指揮 Ensemble FOVE(Tenor:工藤和真) | 3:41 |
| 2 | In Regards To Love – Eros | 松司馬拓 (feat. 沖仁) | 2:16 |
| 3 | Yuri On Ice | 梅林太郎 | 3:42 |
| 4 | In Regards To Love – Agape | 梅林太郎 (Boy Soprano : 杉山劉太郎) | 2:20 |
| 5 | Piano Concerto In B-Minor: Allegro Appasionato | 松司馬拓指揮 Ensemble FOVE(Piano:實川風) | 3:47 |
| 6 | Minami's Boogie | 梅林太郎 | 3:32 |
| 7 | "Shall We Skate?" O.S.T. from "The King And The Skater" | 松司馬拓 featuring The Soulmatics | 2:15 |
| 8 | "Terra Incognita" O.S.T. from "The King and the Skater 2" | 松司馬拓 featuring U-zhaan | 3:41 |
| 9 | La parfum de fleurs | 松司馬拓指揮 Ensemble FOVE | 2:05 |
| 10 | "The Inferno" O.S.T. from "Shanghai Blade" | 松司馬拓 | 3:43 |
| 11 | A Tales of Sleeping Prince | 梅林太郎 featuring AISHA | 3:37 |
| 12 | Still Alive | 梅林太郎 featuring MATT CAB & WISE | 2:10 |
| 13 | Intoxicated | 梅林太郎 featuring Jovette Rivera | 2:09 |
| 14 | Rapsodie Espagnole | 松司馬拓指揮 Ensemble FOVE | 3:38 |
| 15 | Almavivo | 松司馬拓 | 2:16 |
| 16 | Anastasis | 梅林太郎 | 3:42 |
| 17 | "L'homme Arme" O.S.T. from "Destiny of Knights" | 松司馬拓 | 2:14 |
| 18 | Serenade for Two | 梅林太郎 & 松司馬拓 featuring Wouter Hamel | 3:36 |
| 19 | Theme of King JJ | 梅林太郎 featuring Linus Norda | 3:42 |
| 20 | Partizan Hope | 梅林太郎 | 3:42 |
| 21 | <Samarkand> Overture | 松司馬拓指揮 Ensemble FOVE | 2:11 |
| 22 | Beethoven: Symphony No. 9, 2. Movement "Advent" (Genesis Edition) | 松司馬拓指揮 Ensemble FOVE | 3:39 |
| 23 | Welcome to the Madness | 梅林太郎 (Vocal : Steve Mcnair) | 2:36 |
| 24 | Duetto (Stammi Vicino,non Te Ne Andare) | 松司馬拓指揮 Ensemble FOVE (Tenor:工藤和真, Soprano:松原凛子) | 2:40 |
Lots of tracks to choose from, and some of the most iconic music of the anime. One of the great things I love about this soundtrack is the range of music genres it includes. There's a little bit of something for everyone: Jazz, Opera, Classical, Rock, Pop, Electronica, Movie themes, percussion, brass, piano, guitar, hard sound, soft sound – it's a well-rounded soundtrack.
I could go song by song, but that would take up way too much space, and would call for me to do multiple posts. So I'm going to share which ones I feel really make this soundtrack shine.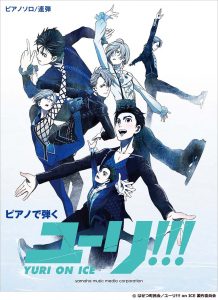 Yuri and Yurio's skating pieces are easy to listen to over and over.  They create the most imagery in my mind from the anime. I love the piano of Yuri on Ice. There's something about the fast-paced playing along with the accompaniment that provides a heart-warming sound. I've gone looking for the sheet music, and there is an official version that will be released soon. It will even be included in the annual figure skating music book for Japan this past year!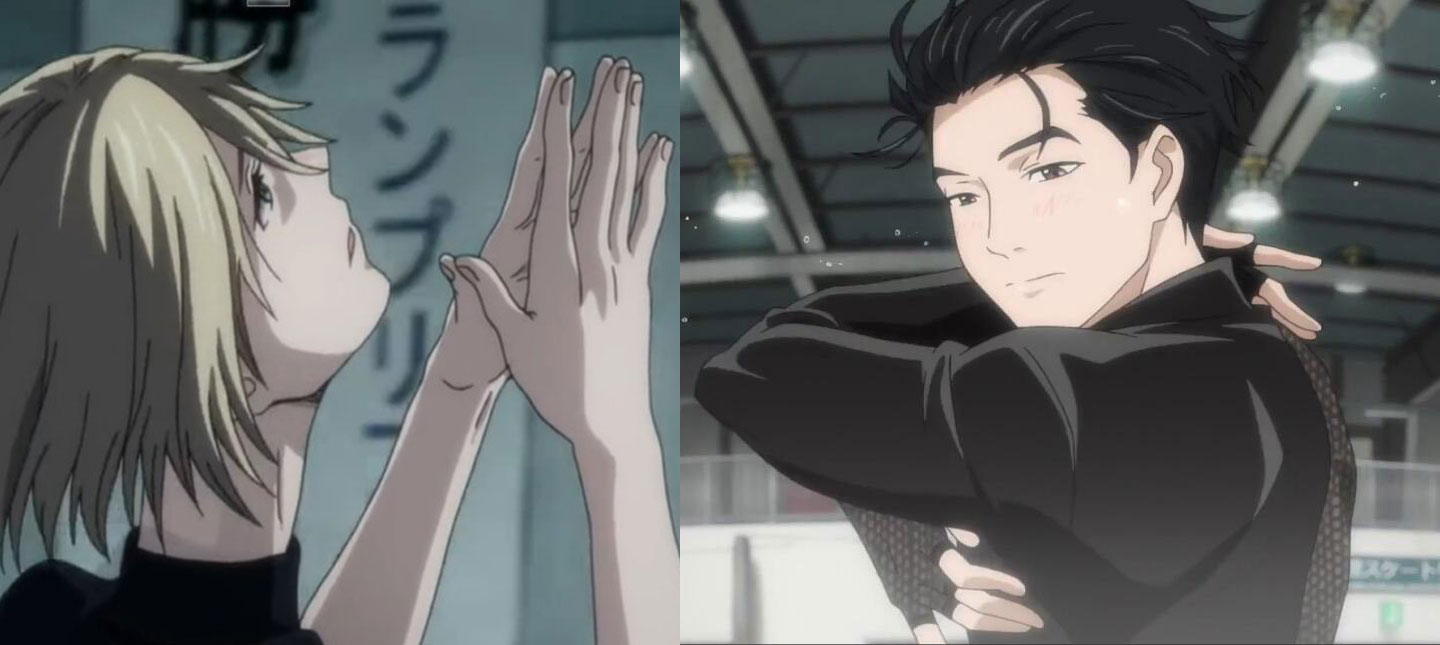 In Regards to Love: Agape and Eros are two sides of the same coin – and it's really beautiful how two similar scores can yet be so different. Agape has the angelic voice part in Latin. Eros has a more Spanish flair. Yet similar chords and progressions allow you to hear the parallels of the two pieces. Such a work of art!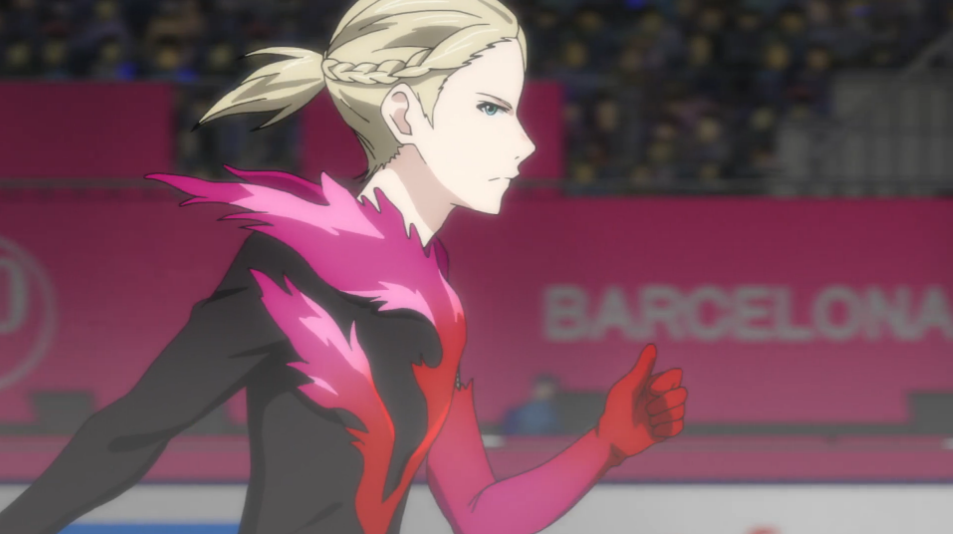 I've really gown fond of Allegro Appasionato the more I listen to it as well. Because of Yuri's costume in the anime I was sure it was based on Stravinksy's classic Firebird ballet. There are some similarities in the sound, but Allegro Appasionato is still quite unique.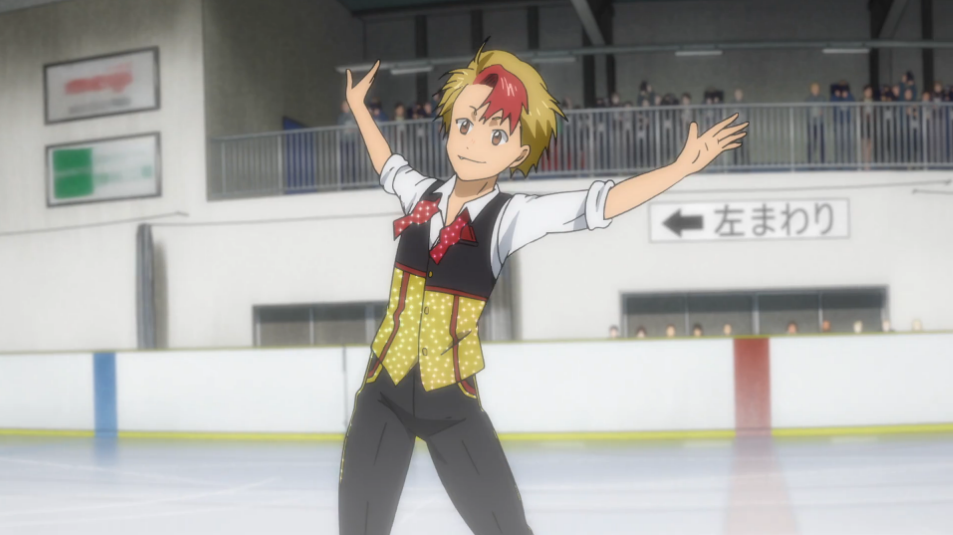 Then there's Minami's Boogie – a great-sounding big band jazz piece that I haven't heard in anime since Yoko Kanno's compositions (Cowboy Beebop, Ghost in the Shell, Kids on the Slope). Not surprising though, is that Taro Umebayashi, who composed quite a few pieces for this soundtrack, worked with Kanno on the Space Dandy anime prior to working on Yuri on Ice.
I'm not in love with opera as a genre, but if you love the anime, then the pieces Aria and Duetto will be some of the tracks you find yourself repeating as well. The scenes with those songs are some of the most memorable from the anime.
Who can forget the Theme of King JJ? It's a catchy pop tune with English lyrics full of flamboyant confidence. Everyone in the audience has to sing along, right? You'll find yourself singing as well if you listen enough.
Still Alive, Anastasis, Intoxicated (who can forget Chris's ass?), A Serenade for Two – these are pieces I enjoy hearing as well. There are lot of guest vocalists for the tracks that bring in some great talent. Really, I like so much of the soundtrack that I was surprised about a few songs.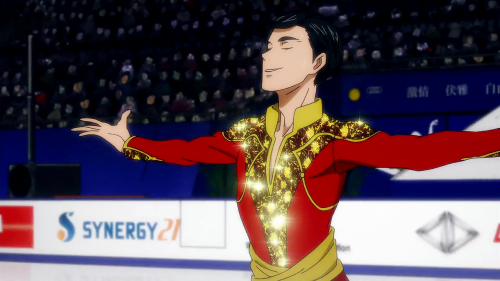 As much as we all love Pichit, the OST of the King and the Skater, Shall We Skate has some of the most ENGRISH lyrics. The music has a good sound, but don't try to sing along.  Phrases like "You can stand like a feather on the ice/
Let yourself go with music /Spinning 'round like a dice" and "Your dreams will come true if you believe/
Like a magical train we can catch" make for unlikely English word combinations. That's not the case with the other English songs, so I have to reason that it was intentional.
Also, I noticed that the song Carabosse from the Sleeping Beauty ballet was used in the anime, but maybe they didn't do their own recording of it, and just used a Tchaikovsky recording? I was looking for it in the soundtrack and it wasn't there. It was Georgi Popovich's short program, if you don't remember. All the other routines are on the soundtrack except that one.
All in all, if you loved the anime, then you would definitely want this soundtrack. I'm highly impressed with the musical talent of Taro Umebayashi and Tatsuya Matsumata.  The music is a very important aspect of skating, and these guys did some phenomenal composing for an anime. If you have watched the anime, but haven't really listened to the music, then it's time to!
Oh, Sketra!! Yuri on Ice!!! soundtrack can be purchased digitally and on CD in several locations.  My purchase was through iTunes USA, but it can also be bought through CD Japan, amazon.co.jp, or any other online Japanese retailer that sells music.
Heart of Manga Rating: ♥♥♥♥♥
Author/Editor
Super mom and teacher until the kids go to bed, then romance manga addict and writer until the caffeine wears out! Specializes in the shoujo and josei genre of manga and anime.
Latest posts by Laura (see all)