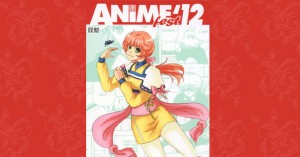 Labor Day weekend is always a welcome break after the beginning of a new school year. This year in Dallas, Texas, many students spent their three day weekend cosplaying and glomping in the halls of the Sheraton hotel for AnimeFest 2012. Now in its twentieth year, the convention hosts venues for anime, art auction, video games, table top games, dealers, and all kinds of how to and industry panels about anime and manga. 
The convention started on Friday afternoon and ran until Monday afternoon. I stopped in Friday afternoon as the festivities were beginning, and discovered the line of guests with all kinds of costumes and props waiting to check in to the hotel. I went up and grabbed my pass for the convention but didn't have time to stick around. I had to wait until Saturday to attend events with the rest of the con-goers.
The convention itself was well organized. There were four separate schedules to plan your day: anime screenings, table top games, video games, and panels. Everything I attended was right on time. The volunteer staff was very helpful and they had a good system down for tracking attendees. The venue was the right size for the audience, so lines weren't very long and it was easy to move about the convention.
The highlight of the convention was getting to see all the guests, including the Japanese artists. I  was able to meet Koji Morimoto, Tatsayuki Tanaka, Yoshimitsu Yamashito, Dai Sato, Sayo Yamamoto, and Arina Tanemura. Some of the swag I got autographed are now treasured collectibles.