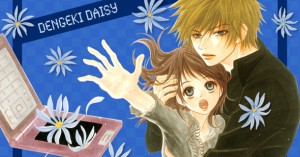 Last year I reviewed volume 1 of Dengeki Daisy. I highly recommended this series, and thought it was time to give an update on my opinion. Viz has done a good job pacing the releases, and I think it has a good following. The tension of this series winds you up tight until you are about to explode with frustration at the characters. I personally think that Motomi is very talented at writing that way. Some may find it annoying. I find it tantalizing. Seems like others are enjoying it as well, since it's been on the New York Times manga bestseller list for 2 weeks now.
The Gist: The last book left off with Teru Kurebayashi confirming what she already suspected, that Kurosaki is DAISY. Now she's trying to remain "normal" around him, despite being smitten with him. Kurosaki plays along as the regular custodian, but at times, elements of DAISY tend to rise to the surface. There is still someone behind the scenes trying to get revenge on DAISY, by sending out a virus and claiming that DAISY is the one responsible. This puts Teru in danger, and at last all past team members of Teru's brother, Soichiro, have been introduced and are participating in the protection of Teru. We're left with a cliffhanger at the end of the volume as Kurosaki is injured trying to protect Teru.
The Characters/Romance: Kurosaki and Teru are charged with chemistry. Completely fallen for each other, but trying to hide it from the other, they dance an interesting dance around their feelings. This element is what what frustrates some. I can see readers yelling at Teru and Kurosaki in the book to, "Do something already!" Myself, I rather like the lingering tension, because it makes the union so much more sweeter when it finally occurs. I don't have a problem with the age difference between these characters, either.  It's because I see Teru as more mature for her age because of what she's gone through. Her independence and responsibility make up for her lack of years. Kurosaki is the mystery. We find out in this volume the origin of the name DAISY, but we still don't know why Kurosaki made the promise he did to Soichiro. What great sin did he commit that he feels he is responsible for Soichiro's death? Why does he feel he doesn't deserve Teru? I'll be glad when the characters are finally upfront with one another. Then we may get the answers to these questions and more.
The Art: Motomi's style is such a pleasure to read. It's classic shojo toning, but Motomi really fits the art style to the mood of the scene. More abstract, chibi figures for those slapstick moments, and then finely detailed, close-ups for the more emotional scenes. I think one of the reasons I can withstand the character tension so well is due to the fact that in between chapters, Motomi inserts drawings of Teru and Kurosaki in poses that they might strike if they were actually dating. Some of these are really sweet. I enjoy the cover art, and it would be nice to see more of Motomi's colored work in the future.
The Audience: Cuddly. Plenty of tension but not any action. I think most teens would be delighted with this series. It's got intriguing characters, a storyline with some mystery thrown in, and plenty of beautiful art to enjoy.
The Media: Dengeki Daisy is available in the states from Viz media in 4 volumes.  Volume 5 is expected to be released in July 2011.
Heart of Manga Rating: ♥♥♥♥ Highly Recommend