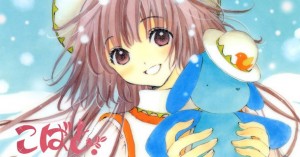 Kobato is CLAMP's 23rd manga series that ran in Monthly Sunday Gene X and then Newtype from 2005 to 2011. It even had a run in Newtype USA up to the folding of the publication. A stand alone story set in the dimensions of CLAMP, Kobato includes a rewarding love story yet leaves a lot of unanswered questions.
The Gist: Kobato Hinato is a young girl who wishes to return somewhere. She must collect the healed hearts of others in her environment and fill up a bottle for a her wish to be granted. A stuffed dog with the soul of a person known as Iorogi is her only companion. As Kobato interacts more with the people in her dimension, she becomes involved in working for a kindergarten, and eventually falls in love. But the time to fill up the bottle is running out, and what wish is Kobato really trying to grant?
The Characters/Romance: Kobato starts out as a protagonist with very little understanding of her role or how to function in her dimension. She is being guided by Iorogi to learn how to interact with others and acquire survival skills. She's a sweet girl who is selfless and likes to help others. Just like another popular shoujo CLAMP character.
Fujimoto is the main love interest for Kobato. His tsundere personality  creates a lot of friction at first, but he eventually comes around to really loving Kobato.
Half of the characters for this series are shrouded in mystery. Kobato herself is an enigma, without a backstory for the first few volumes, which is half of the series. Other characters like Iorogi and Ginsei and Genko, come from another dimension and we don't have much backstory for them either, and very little clue as to their importance to the story. The entire time I read this series trying to make connections to other works by CLAMP because Kobato was set in a similar environment to Chobits and Cardcaptor. However I was just left frustrated by the end. I found the story to be unfulfilling, expecting more of the "otherworld" connections to be brought to light. When they are not, it leaves the story feeling unfinished. Although, that wouldn't be the first time CLAMP has done such.
The Art: Kobato has a lighter feel to the art, since it is a shoujo romance. The character designs are very familiar, and the imagery looks similar to the previous Tsubasa Reservoir Chronicle. The paneling flows well, and the line art is clean with minimal toning. A pleasure to look at and read.
The Audience: Kobato is appropriate for a teen audience. There is more emotional development than romantic involvement, so the series stays at a  cuddly level.
The Media: The complete manga of Kobato is available in North America in 6 volumes from Yen Press. A 24 episode anime was released from Sentai Filmworks with English subtitles in 2011. There are also two light novels of the sereis in Japan.
Heart of Manga Rating: ♥♥♥
While Kobato is delightful to read, it lacks the polished feel of some of CLAMP's more developed series.