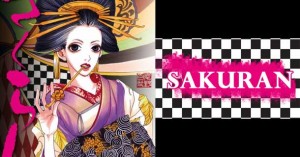 Sakuran is a seinen manga written by Moyoco Anno and serialized in Kodansha's Evening magazine from 2001-2003. It was published in English by Vertical, Inc. this past July.
The Gist: Kiyoha is sold as a child into a brothel. There she is required to work as a maid to earn her keep. Her determination to escape from the brothel and her future life as a courtesan leads her to constant punishment. But it is her strong-willed spirit that carries her through situations that would break others. As she comes of age she must learn to deal with the destiny she has been given, and determine what defines who she really is.
The Characters/Romance: Moyoco Anno gives readers a vivid experience of the life of a courtesan in Edo period Japan. Kiyoha's childhood situation instantly creates empathy for her character. Her stubbornness and determination to overcome it wins readers' admiration and support. That makes her an instantly likable character. While the life of a courtesan may look glamourous from the outside, Anno shows readers that behind the scenes prostitution can create tragic and heartbreaking circumstances for the women involved. Kiyoha witnesses murders, abuse, and experiences unrequited love.
Kiyoha's perception of men is very skewed having grown up in the brothel and witnessed the baser acts of men and women. She tries to remain unaffected by the attentions of customers and determines not to fall in love with any clients. Yet Anno depicts her naivety and humanity when Kiyoha falls victim to her emotions during her first intimate encounter. It is a situation of loving and wanting to be loved that all women can relate to.
The Artwork: Anno does a fantastic job of drawing the audience into Edo period Japan. The costumes and settings are drawn in detail with plenty of historical references. The line art leans towards a very realistic feel. That is an important aspect since the subject matter can be very sensitive. I was most impressed with the range of emotions Anno could reflect in Kiyoha's facial expressions. The colored pieces are such a wonderful addition to the volume and Vertical did a fantastic job with the cover design.
The Audience: Sakuran is rated 18+ for good reason. The setting of the story being a brothel, there are scenes of nudity and sexual acts. It would be considered Erotic on my rating scale, and appropriate for a mature audience.
The Media: The manga was also adapted into a live action movie in 2007.
Heart of Manga Rating: ♥♥♥♥♥
I don't give this rating very often, but I feel that Anno's work is a great period piece that deserves high praise. A realistic glimpse into the life of an orphaned courtesan.
A copy of

Sakuran

was provided to Heart of Manga by Vertical.