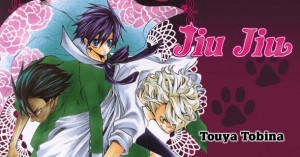 Jiu Jiu is one of Viz media's new series that came out last month. Touya Tobina has had one other series published in English, Clean Freak Fully Equipped, but not many got into it because the first volume came out right at the folding of Tokyopop. So I was eager to take a look at what Viz had managed to license from her.
The Gist: Main character Takamichi is a demon hunter who loses her twin brother as a child. She then comes to inherit a pair of shape-shifting familiars, wolf pups, that she names Snow and Night. An annoying responsibility at first, Takamichi comes to rely on the unconditional love and loyalty of her familiars. Now in high school, Takamichi goes on hunts regularly and is stalked by demons. Night and Snow have learned to take on human form and are willing to go to any lengths to protect their master, even attending high school!
Thoughts: My first impression of this series was "meh".  Another demon centric plot with a love triangle type romance. The most I could connect with the main character was maybe her grief she seems shut in through the beginning of the volume. Snow and Night make far more interesting characters, but at this point they're pretty cliche – opposite personalities from Takamichi to choose from. The scenes of Takamichi sleeping with the pups in human form were suppose to be risqué, since they're in her bed naked and telling how much they want her. I found them kind of disturbing since they're her pups, but they're acting like they want to be her lovers. I don't know about you, but I wouldn't want my dog as a lover. **sorry if I gave you any mental images!** This series is definitely for older teens.
I won't write it off with just one volume, because I know there have been series that have taken me at least 4-5 volumes to really enjoy and appreciate the characters. I like Touya Tobina's art style. She has quite a bit of "fluffiness" (ie. flowery, bubbly, sparkly toning effects you see in a lot of shoujo manga) but her line work and contrast toning make up for it. Action scenes are great. As for the characters, Takamichi herself is not a typical shoujo protagonist, so that aspect of the story could be an advantage eventually.
This is one I'll keep an eye on, but it's not at the top of my reading list by any means.
Heart of Manga Rating: ♥♥♥