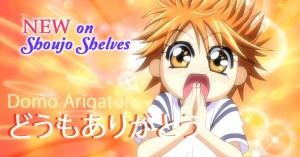 It's that time of year! Turkey, football  and of course all your favorite relatives. Let's also take a moment to be thankful for the shoujo manga we're getting here in the states. If you're looking for the most recent releases of shoujo volumes I've got them! Here's what's coming out this month for all you shoujo lovers out there.
Some collector edition box sets of Ouran High School Host Club and Sailor Moon to add to your shelves.  I'll be sure to check out the first volumes of Strobe Edge as well as Missions of Love both debuting this month.
Publisher

Cover

Publisher Synopsis

Ai Ore!, vol. 7

Akira's agency cares more about creating idols than music, and Mizuki is reluctant to agree to their terms for Blaue Rosen debuting with a major record label. Akira then decides to go solo, but is he ready to live the life of a female idol?

Alice in the Country of Clover: Cheshire Cat Waltz, vol. 3

Alice starts a shaky love affair with Boris, the Cheshire Cat. She's happy with him, but still feels the pull of her own world. When the White Rabbit gets involved, his true nature finally comes to light!

Bunny Drop, vol. 7

As Rin experiences the ups and downs of being a teenager, she begins to ponder what it means to be family. In her exploration of that question, she takes it upon herself to track down Masako, her birth mother. Masako, now engaged and pregnant, is about to start a new family of her own. But with Masako's feelings of guilt over her treatment of Rin, she can't bring herself to tell Daikichi of the recent developments in her life. So when Rin and Masako end up meeting face-to-face as a result of Rin's legwork, will the mother-daughter relationship that's been all but nonexistent till now end in fireworks?

Kamisama Kiss, vol. 11

New Year's is coming up, and that means the Tochigami Shrine needs to send a representative to greet the toshigami, the visiting kami who assures a good harvest for the year. Nanami insists on going with her shinshi but gets stuck in limbo at the meeting place. Her shinshi rush to get her back, but instead they all end up trapped in Nanami's troubled childhood…

Kimi ni Todoke, vol. 15

Ever since the near-kiss incident on the school trip, Sawako and Kazehaya have become distant. With Ayane warming to Kento's affections and Chizuru devastated that her friendship with Ryu is beyond repair, does the change of season mean a change of heart?

 
 

 The Limit, vol. 2

In the second volume of The Limit, Mizuki has found herself in a position where her not only her social life is at risk, but her survival rests in the hands of the young women she was so desperately attempting to avoid. In the wild the strong survive, and while Alisa may not be smart or cute, she is physically strong. So she immediately takes command by gathering anything that may be used as a weapon to threaten the lives of anyone who may attempt to usurp her new found authority.

Mizuki will have to win over the trust of three people who truly despise her. Whether that means doing all the most dangerous tasks to survive or she must endour bullying, right now she understands that unity will be their only way home. Keeping that unity may be improbable, though.

 Lovephobia, vol. 2

Sweet Ako and the vampire Kou lead an entwined existence, and with every passing day they grow even closer! But when word spreads of a way to recover her former life, Ako can't help but be intrigued. Will she surge ahead into the blood-soaked future…or fight to recapture her past? Lovephobia stirs forbidden feelings of doomed desire, jealousy and insatiable bloodlust! When a once-innocent girl falls under the spell of a charismatic vampire, she shocks (and seduces) with ease. But what happens when her obsessed younger brother intervenes?

Missions of Love, vol. 1

Cell phone novelist Yukina Himuro has decided that, in order to satisfy her fans' demand for love stories, she must experience romance firsthand. But with her icy reputation, how can she find someone willing to play the part of boyfriend? By blackmailing the most popular boy in school, of course!

Oresama Teacher, vol. 11

Hayasaka has been gloomier than usual since he hasn't been able to see Super Bun in a long time. Shinobu butts his ninja nose in and suggests Hayasaka and Super Bun go on date for Christmas Eve. Mafuyu very reluctantly agrees to play "matchmaker," and dons the rabbit mask to help cheer up her friend. But the date goes much better than she expected! How is she going to deal with Hayasaka now?

Ouran High School Host Club Box Set, vol. 1-18

In this screwball romantic comedy, Haruhi, a poor girl at a rich kids' school, is forced to repay an $80,000 debt by working for the school's swankiest, all-male club—as a boy! There she discovers just how wealthy the six members are and how different the rich are from everybody else…

 

Sailor Moon Box Set, vol. 1-6

Collecting the first six volumes of the #1 bestselling manga of 2012, Sailor Moon, with exclusive stickers!

The box is designed using Sailor Moon art never before published in the U.S. The second box set will be released in fall 2013, and when joined together, the two boxes will create one beautiful image – the perfect addition to a Moonie's shelf!

Usagi Tsukino is a normal girl until she meets up with Luna, a talking cat, who tells her that she is Sailor Moon. As Sailor Moon, Usagi must fight evils and enforce justice, in the name of the Moon and the mysterious Moon Princess. She meets other girls destined to be Sailor Senshi (Sailor Scouts), and together, they fight the forces of evil!

 
 

Strobe Edge, vol. 1

What is love, anyway? Ninako Kinoshita's friends tell her it's one thing, but Ninako wonders what this mysterious feeling really is. When she meets Ren Ichinose, a handsome, enigmatic guy who all the girls worship, her life takes an unexpected turn. With just a few words and a smile, he changes her world…

Vampire Knight, vol. 15

With Kaname missing, Yuki must now step in as acting head of her clan to maintain the fragile peace between the human and vampire societies. Will she be able to regain the trust of the vampire aristocrats, much less Aido?

The Wallflower, vol. 29

no synopsis

We Were There, vol. 15

More than anything else…

…you must have wanted…

…to live up to Nanami's expectations.
Which series are you going to be picking up?