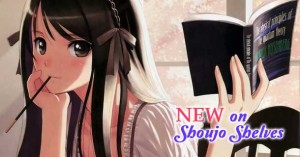 September and back to school. Time to be hitting the books again. Once you've memorized your textbooks, take a break and enjoy some romance. If you're looking for the most recent releases of shoujo volumes I've got them! Here's what's coming out this month for all you shoujo lovers out there.
Looking forward to the new Library Wars, Genbu Kaiden, and Otomen. Hurray for reprints of ParaKiss and Angelic Layer! Lots of reprints this month from Kodansha.
Publisher

Cover

Publisher Synopsis

Alice in the Country of Clover: Cheshire Cat Waltz 2

Alice in the Country of Clover is an all-new manga series that reimagines Lewis Caroll'sAlice in Wonderland in a sly, sexy shoujo style. This new series is a follow-up to QuinRose's bestselling Alice in the Country of Hearts, but can be read independently. Each new volume will be released in oversized editions that feature impressive artwork and color pin ups.

 

Amazing Agent Jennifer, Omnibus

Before Luna's hard-as-nails boss known simply as "Control" ever became a control agent, Jennifer Kajiwara was once a rookie herself. From Jennifer's freshman year in the Agency as a late teen, through her struggles with her parents and her grueling training, to her first dangerous mission as a field agent (and first big romance!), being a young secret agent is never easy.

Jennifer must learn the hard way how to play the deadly spy games that make her such a competent control agent years hence, as she becomes embroiled in a secret war full of intrigue, betrayal and deadly consequences. This series is a two-volume spin-off that will tie directly into events in future volumes of Amazing Agent Luna.

Angelic Layer, Omnibus 1

Junior-high student Misaki Suzuhara has just arrived in Tokyo to live with her glamorous TV news star aunt and to attend the prestigious Eriol Academy. But what excites her above everything is Angelic Layer, the arena game where you control an Angel – a miniature robot fighter whose moves depend on your mind!

Misaki's small, just like her Angel, Hikaru (named after her favorite manga, Magic Knight Rayearth), but her natural battle skills have been recognized by a very odd scientist, Ichiro "Icchan" Mihara. Before she knows it, Misaki is an up-and-coming contender in Angelic Layer – and in way over her not-very-tall head! How far can enthusiasm take her in an arena full of much more experienced fighters… and a game full of secrets?

Includes several bonus illustrations in full color.

Arisa, vol. 1 – Reprint by Kodansha

Tsubasa thinks that her pretty and popular twin sister, Arisa, has the perfect life. Everyone at school loves Arisa-unlike the hot-tempered Tsubasa, whose nickname is "The Demon Princess." But when Arisa attempts suicide, Tsubasa learns that her seemingly perfect sister has been keeping some dark secrets. Now Tsubasa is going undercover at school – disguised as Arisa – insearch of the truth. But will Arisa's secrets shatter Tsubasa's life, too?

 

Cardcaptor Sakura, Omnibus 4

It's the conclusion of Cardcaptor Sakura!

Now is the time for people to admit the feelings for other people they've held secret . . . but there are so many feelings, running in so many directions! What are the true desires of Eriol, the powerful young boy who is the reincarnation of Clow Reed . . . and why did he wish that Sakura would replace him as Master of the Clow . . . ?

 The Earl and the Fairy, Vol. 3

Lydia and Edgar have returned to London after their adventure on the Isle of Manan. But life in the capital is no respite for the weary travelers. A being called the Fogman stalks the night streets, snatching children all around town. And it may have something to do with Edgar's dark past…

Fushigi Yugi: Genbu Kaiden, vol. 10

Takiko has returned to the Universe of the Four Gods! As the Celestial Warriors search for the scroll of the Four Gods, Takiko uncovers the truth about the prophecy that turned Uruki and his father into bitter enemies. But while they begin a new chapter in their adventures, Takiko struggles to conceal a terrible secret about herself from the Celestial Warriors…

Kieli, Novel 7

When the Corporal's wires get crossed and his memory begins to fail, Harvey and Kieli are forced to temporarily set aside their search for Beatrix to scout for pre-War parts for their afflicted comrade. Along the way, they encounter a strange beast who knows far too much about Undyings and has taken an unsettling interest in Harvey. But it may be a far more mundane menace from Kieli's past that threatens the couple's continuing journey…

Library Wars, Vol. 8

The Media Betterment Committee's inquiry into Iku's role in the so-called book burning continues, and an evil conspiracy comes to light. Someone on the team is deliberately manipulating Iku, and even her attraction to Dojo becomes fodder for the fight! Will Iku ever understand Dojo's feelings for her?

 

Oresama Teacher, Vol. 10

Yui might be a spy for the Student Council, but he still takes his duties as a member of the Public Morals Club very seriously! When he notices that the club has been a little stagnant lately, he decides to liven things up with some ninja training. But while he's whipping Mafuyu and Hayasaka into shape, forces on the Student Council are working against him…

 

Otomen, Vol. 13

Ryo ends up coaching a high school judo team, but women aren't allowed at that school! She finds a way around this obstacle, but the real challenge comes when she finds herself facing off against… Asuka?!

Paradise Kiss, Vol. 1

Yukari is a spirited high school senior in the process of studying for her college entrance exams. Sadly the prospect of subjecting herself to a meaningless dull life leaves her feeling depressed about the future.  In a bout of frustration, Yukari begins to ignore her courses and she begins to hang out with a group of fashion design students. But what Yukari doesn't know is that this circle is known as Paradise Kiss, and they are run by a pair of young designers already making their mark on the Asian scene. Furthermore, while her life is going to soon change, it will not be due to the elite political or commerce based future her family may have hoped for, instead her life may eventually be set in a world of high fashion, with her strutting down the catwalk as the face of Asian fashion!

 

Sailor Moon, Vol. 7

Old friends and new enemies lurk in the mysteries surrounding Mugen Academe. The Death Busters crave the Hoste, the human energies, of Sailor Moon and her friends – and they'll prey on the girls' dreams and weaknesses to get it! Furthermore, prophetic dreams hint of "talismans" that could awaken a "Deity of Destruction." Could these things be connected to the guardians' power? And are the Sailor Senshi capable of murdering the innocent to save the entire world?

 

Shugo Chara, Vol. 3-9

Reprints of volumes 3-9 will now be available from Kodansha.

 

The Wallflower, Vol. 13, 2, 6

Reprints of volumes 13, 2, and 6 from Kodansha.

Yotsuba&!, Vol. 11

Say cheese! Say cheeeese! Yotsuba's got a shiny new camera! But this new camera is too cool for just Daddy's silly poses. What else should Yotsuba take? Maybe the nice man at the restaurant who makes udon, or Shaggy Beard at the bike shop. But definitely not that dog down the street. He's a little scary and… oh no! Watch out, Juralumin!!!! WAHHHH!
Which series are you going to be picking up?