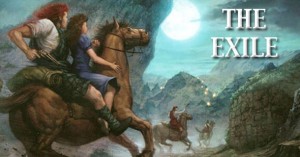 Usually I review Japanese manga or Korean manhwa, but in this case I've made an exception because this author and I go waaayyy back. This year happens to be the 20th anniversary of the Outlander series. I can recall when Diana's first book was published. I asked for it for Christmas my freshman year of high school. My mother introduced me to romance fiction, but out of all the smutty titles on the shelf, this one interested me more because of the historical context. It was more intelligent than your average romance.
These days Gabaldon has earned a place on the fiction shelf  (higher status than romance). Twenty years and seven novels later, Outlander has a huge fan base. Since graphic novels became en vogue a couple of years ago, several popular authors in different genres had one of their titles either transformed into a graphic novel, or a spin off of the series created into comic form.  Gabaldon was one of those authors who gave it a shot.
The Exile is a portion of the original Outlander novel, except told from another character's perspective. It has some of the novel's very memorable scenes, but also some new tidbits that were thrown in for this version only. So what the hell is Outlander, you ask?
The Gist: During World War II, Claire Beauchamp goes on a second honeymoon with her husband Frank in Inverness, Scotland. While on a walk she comes across ancient standing stones and is warped through time back about two hundred years. There she experiences life of 18th century Scotland, and meets a man who's destiny seems intertwined with hers. For a full in-depth summary of this 900 page book, see the synopsis on Wikipedia's Outlander. The comic adaptation covers a good three-fourths of the story in pictures.
The Characters: Some of the familiar characters brought to life in this graphic novel adaptation include Jamie and Claire, Colum and Dougal MacKenzie, Black Jack Randall, Ned Gowan, Murtagh Fraser, and Geilie Duncan. The events from the novel are shown from Murtagh's view point. Memorable events illustrated include: Claire healing Jamie's shoulder, Jamie telling Claire his back story, Jamie pledging his loyalty to clan MacKenzie, Black Jack Randall capturing Claire and Jamie coming to the rescue, Claire and Jamie's wedding and consummation, Jamie punishing Claire for not minding, Claire and Geilie being captured as witches, Geilie revealing her true identity, and Jamie taking Claire back to the standing stones.
This graphic novel adaptation had to be made with fans of the series in mind. It would be difficult to understand the significance of the events in the comic without knowing the details of the novel. Personally, I can't even put myself in the shoes of someone reading it cold, with no prior knowledge. That's because I've known these characters and this universe for 20 years. If anything, the graphic novel would lead more readers to the novel itself.
The Art: This was the most important aspect of the book. I'll start out by stating that all the images in the book are in color. These illustrations were drawn and colored by Hoang Nguyen. Gabaldon comments in the afterword that she tried to find someone who would illustrate as close to her mental images of the characters as possible. She and Nguyen worked closely together on character features and costuming. It paid off because the images are truly striking. The soft look of the art fits a historical context. It's difficult to tell what was used, but I would guess pastels or pencils, possibly marker as well. The anatomy is fairly proportionate and most scenes are well balanced. My only gripe is that Claire's cleavage tends to be used in compositions quite a bit.

Also, the word bubbles and font detract from the imagery. Beautiful art, but it looks like amateur bubbling and typography. Jamie would be embarrassed. (Inside joke.)
I think the paneling is the biggest issue with this book. Every picture is a box. Nothing is dynamic. I understand that the coloring was a big deal, but I would have taken black and white toned images with more dynamic paneling over the stifling boxes page after page. A few colored inserts would have been enough to give the audience an idea of the characters' appearance. This story has plenty of action scenes that would have been better if done with more free form paneling. I'd like to see what Yuu Watase or Chie Shinohara could have done with it.
The Audience: Appropriate for older teens and up. There is a suggestive scene when the marriage is consummated. Fans of Outlander will enjoy it the most.
Heart of Manga Rating: ♥♥1/2
This reminds me of the attempt to make Twilight a graphic novel. The subject matter may be a hit, but that doesn't mean it should be a comic. An art book of scenes from the story would have been a better choice.