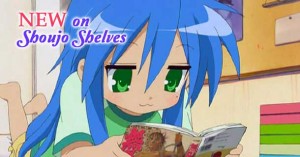 It's the hottest part of the summer and if you're trying to stay cool indoors, how about some new manga? If you're looking for the most recent releases of shoujo volumes I've got them! Here's what's coming out this month for all you shoujo lovers out there.
There are fewer than last month, but plenty of long awaited titles. Time to catch up on series that have been long running.
Publisher

Cover

Publisher Synopsis

Ai Ore!, Vol. 6

The members of Blaue Rosen and Akira's schoolmates have found themselves at the same beachside resort for summer vacation. Akira wants some alone time with Mizuki, but will he ever be able to shake off Ran and Rui?

Bunny Drop, vol. 6

As Daikichi continues to juggle work with raising a teenager, Rin struggles with the relationship between her and Kouki, her childhood friend. The last ten years have brought about a variety of changes to their friendship—some subtle, some not so. Kouki may always have been head over heels for Rin, but the choices he's made in the past seem to have put a wedge between them. And when a scorned ex sets her sights anew on Rin as the object of her rage, the tricks up this girl's sleeve threaten to nip Kouki's potential romance with Rin in the bud for good. As Rin's sixteenth birthday approaches, will there be cause for celebration? Or will Daikichi have a crisis of the heart on his hands?!

Chi's Sweet Home, Vol. 9

As Chi Yamada has shown, kittens are a resourceful and strong lot. Through play and exploration they learn to hunt for their food and to define their territory, much like the big cats of the savannah and jungle. Chi's turf now stretches out for blocks. But after a brief sick spell, she is confined to her condo home while her instincts and heart command her to go out to spend time with her stray friends.

After a sneaky escape from home, Chi makes her way back to the company of her friends, Cocchi and Blackie, but this time she departs with a better understanding of what it means to be a "cat." What exactly freedom and being a stray means, however, is something she will have to learn first-hand, and there may be a bit of a kitty culture shock in store.

Dawn of the Arcana, vol. 5

Princess Nakaba of Senan and Prince Caesar of Belquat only married each other for the sake of peace between their two warring countries, and no one expected there to be love between the unlikely couple. But as Nakaba and Caesar grow close, political forces threaten to tear them apart – especially when Caesar's brother Cain leads an attack on a village Nakaba is trying to save! As things heat up, will Caesar be able to protect Nakaba against his own brother?

 

A Devil and Her Love Song, Vol. 4

Maria encourages antagonistic Ayu to be true to her feelings, but that simple action snowballs into a huge rift within their class! As secret crushes and hidden motives are revealed, the backlash of honesty just might destroy Maria's efforts in uniting everyone for the choral competition!

 Haruka – Beyond the Stream of Time, Vol. 17

At last the time has come for Akane to face the power of the Dragon God within her. With the Capital dying, the alliance of the Eight Guardians shattered and the Four Gods corrupted by a demonic curse, can she restore life to the world and heal her friends' memories? And which of the Guardians does she truly love?

I Don't Like You At All Big Brother! Omnibus vol. 1-2  

*Seinen Romantic Comedy

High school junior Takanashi Nao has a problem: she has a crush on her dreamy older brother, Shuusuke. When Nao discovers that she was adopted as a child and they're not related by blood, it seems like the coast is clear – but Shuusuke just doesn't see it that way.

To make matters worse, Nao finds herself in direct competition against Shuusuke's hot childhood friend, Iroha, not to mention class president Mayuka. As all three girls vie for Shuusuke's attention, Nao soon learns that all is fair in love and war!

 

Kamisama Kiss, Vol. 10

Kuruma's father, the Sojobo of the Kuruma tengu, is gravely ill. Nanami thinks she can cure him with her supply of Momotan, but first she needs to get past the magic shields of Jiro, the next in line for the leadership of the mountain. And Jiro isn't the only thing on the mountain the gang needs to watch out for…

Kaze Hikaru, Vol. 20

Hijikata decides to make use of Kamiya's feminine features and sends "him" out dressed as a woman on a spy mission. Her assignment: to ascertain the whereabouts of the notorious enemy leader Sakamoto Ryoma. Soji, left in the dark about the secret mission, sets off to find Kamiya. The two get more than they bargained for when they come face-to-face with the enemy himself!

 

La Corda d'Oro, Vol. 16

On the eve of her big music competition, Kahoko should be getting some much-needed sleep…but she can't stop thinking about Len. When Len reveals just how soon he's leaving to study abroad, suddenly Kahoko can't concentrate on music. Can she and Len admit how much they mean to each other before it's too late? And can Kahoko still turn in a performance worthy of her training?
Which series are you going to be picking up?